Anza Borrego Desert State Park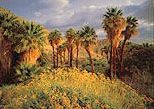 Anza-Borrego Desert State Park is the largest state park in California and the second largest state park in the entire country! At 600,000 acres, it occupies one-fifth of San Diego County and also crosses into Imperial and Riverside counties.
Just two hours from San Diego and three hours from Los Angeles, Anza-Borrego Desert State Park is a hiking, camping, and off-roading paradise!

Anza-Borrego Desert State Park was named after both Juan Bautista de Anza, the first Spanish explorer to forge an overland route from Mexico to Alta California, and the"borrego" or bighorn sheep, an endangered species.
Anza-Borrego Desert State Park offers adventurers and nature lovers varied, striking desert landscapes.
Mountain ranges with elevations as high as 8,000 feet, valleys below sea level, palm oases, chiseled canyons, washes, and badlands make Anza-Borrego a wonder to behold. No park visitor should leave without checking out the spectacular Font's Point, which is California's Grand Canyon.
There are 500 miles of dirt roads, 110 miles of hiking trails, and 12 wilderness areas for the public's exploration and enjoyment.
So, rev up the jeep, strap on those hiking boots, grab your favorite shades and get ready to explore.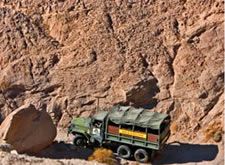 Photo by Kathryn Chandler
California Overland
No jeep? No problem. Join one of California Overland's desert tours to journey deep into the desert.
California Overland Desert Excursions offers day and overnight adventures with guided, off-road tours of the state park. With jeeps as well as larger military vehicles, California Overland offers public and private tours of varied lengths. Check their website for exciting upcoming events, such as astronomy-themed camping trips.
For another great introduction to the park, check out the
Anza-Borrego Desert State Park visitors' center
, which features a natural history museum and interpretive exhibits. It's all built underground so it blends right into the terrain and cuts down on energy costs. Knowledgeable, friendly staff and volunteers are on hand to answer your questions and tohelp you make the most of your park visit.
Plants and Animals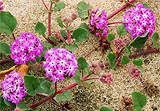 Anza-Borrego plant life includes the fabulous desert wildflowers: desert lily, sand verbena, dune evening primrose, ghost flower, heart-leaf primrose…The stunning wildflowers draw thousands upon thousands of visitors during spring blooms!
When will the wildflowers appear? Where can we see the wildflowers?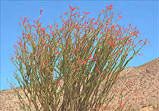 The interplay of rainfall and temperature results in different bloom times each year, but most commonly the wildflower blooms occur in late February to early April. The park has a wildflower hotline with up-to-date information, so check with them for the latest wildflower conditions: (760)767-4684.
Cacti, creosote, ocotillo, palm trees, palo verde, mesquite, desert ironwoods, and smoke trees are some of Anza-Borrego's other fascinating plants.
With summertime temperatures exceeding 100 degrees and winter temperatures dropping into the 30's, Anza-Borrego plants need to weather the extremes! The average yearly rainfall is 6 inches.
Despite the small amount of rain, water shapes the landscape more than any other force and, to a large extent, determines what plants survive and where. The second major force affecting the landscape is earthquake activity.
Animals in Anza-Borrego include the endangered bighorn sheep, roadrunners, hawks, kit foxes, mule deer, ravens, iguanas, tarantulas, chuckwallas, rattlesnakes, jackrabbits, bobcats, and coyotes.
The intriguing sound of coyotes howling is frequently heard after sundown. Every year hawk enthusiasts watch the spring migration of thousands of Swainson's Hawks as they roost here along the way. Beep beep! Watch out for that roadrunner scampering across the road.
Fossilized History
Anza-Borrego has an amazing fossil record featuring baleen whale bones, mammoth skeletons, corals, walrus remains, and so much more!
One million years ago, this desert abounded in fresh water lakes, rivers, and savannas. Large herbivores, like camels and sloths, and carnivores, like Saber tooth cats and short-faced bears, thrived on these now arid, desert lands.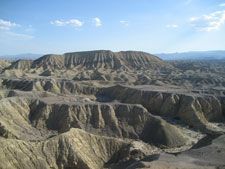 In the badlands—the uplifted and eroded beds of sediments with almost no vegetation—lie the fossils of these and other animals. Moving farther back in time to 7 million years ago, the tropical waters of the Gulf of California covered what is now Anza-Borrego Desert State Park. Animals like sea turtles, sharks, and bony fish thrived.
The Anza-Borrego Desert State Park paleontology lab contains over 13,000 specimens, and it continues to grow with fresh finds! Scientists throughout the world can study the remains preserved in the Park paleontology lab, which is renowned worldwide for its incredibly rare and important collection.
Palm Canyon
One of the most famous hikes in the park leads to the palm oasis referred to as Palm Canyon.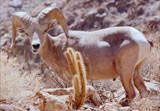 Cool, rocky, and lush, palm oases provide watering grounds for the endangered bighorn sheep. If you're lucky, you might see bighorn sheep surveying their surroundings from up on high. They blend into the canyon walls, however, and are quite difficult to spot.
The palm trees found in Palm Canyon are California fan palms, the only palm native to California. The fronds remain attached to the tree after they die, forming a skirt around the trunk. Over 80 species of migratory birds use Palm Canyon and other oases as rest stops as they travel through the desert.
American Indians lived near the palm groves and used the fronds to make sandals, mats, baskets, and toys. They ate the date-like fruit that drop from the palms. There are signs of native habitation in Palm Canyon and throughout the park.
In addition to pictographs in places such as Blair Valley, visitors may find morteros and metates, holes and shallow depressions American Indians made in the rocks from grinding seeds and beans into meal.
Flash floods from sudden summer storms wash down steep canyon walls, carrying large boulders, tree trunks, and other debris. You can see evidence of some of these floods as you hike into Palm Canyon and other areas of the park.
Anza-Borrego Desert State Park provides visitors with limitless opportunities to explore. With hundreds of miles of hiking and jeep trails to trek down, adventurers of all types and ages will find wonders aplenty in this vast, awe-inspiring, and beautiful park.
The Springs at Borrego RV Resort & Golf Course: Your premiere choice for RV camping in California's Secret Desert™!