A 3-Day Getaway at Our Anza-Borrego RV Resort
You work hard, and if you're like many people, you daydream about where you'll go on your next vacation. But if you follow the traditional route of only taking the longer vacation, the annual escape, you'll miss out.
Instead, try a quick getaway at The Springs at Borrego. Many health experts agree that even a three-day getaway can deliver an impressive bang for your vacation buck.
Experience your incredible getaway to our desert oasis where you'll restore your energy and boost your spirit. Not sure what to do? Here's a fun weekend itinerary for The Springs at Borrego, a remarkable desert oasis: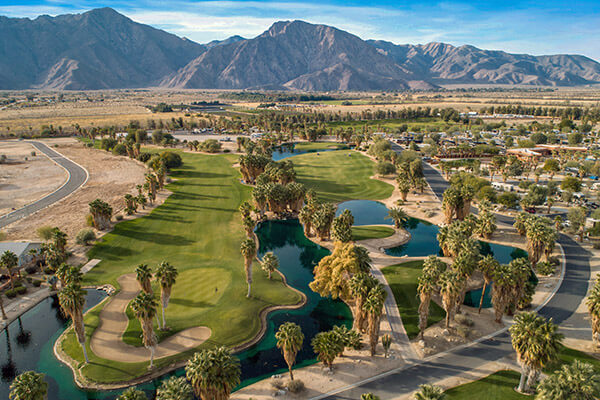 Friday
About an hour after breakfast, enjoy a game of tennis, or get private lessons!
After lunch, soothe your limbs with a hot mineral bath at our on-site wellness center, or get a massage. Then visit our piano and reading library for some solitary fun.
After dinner, mingle with our other guests with a relaxed game of horseshoes, lawn bowling or volleyball. Then enjoy a live music concert at our amphitheater.
Saturday
Enjoy our morning yoga and aerobics classes or join in the low-impact water classes. Savor a relaxing stroll around our resort grounds. After all, you're here to relax and refuel.
An afternoon of golfing fun at our nine-hole championship golf course is a must! Try a lesson with one of our LPGA teaching professionals.
After golf, barbecue in your spacious RV site and savor your meal amidst the stunning beauty of the desert mountains. The desert nighttime skies are equally as breathtaking as the sunsets because Borrego Springs is surrounded by mountain ranges on three sides, blocking out unnatural light, thus giving you nightly views, which will leave you in awe.
Sunday
After a hearty breakfast, go visit the nearby Galleta Meadows sculpture garden in beautiful Anza-Borrego Desert State Park. Marvel at the more than 130 full-sized metal sculptures, like the 350-foot long serpent. This is a must-see attraction!
Enjoy lunch at Kesling's Kitchen for great pizza, al fresco dining and conversation with the locals. The eatery opened its doors in 2016 as a part of the new Borrego Art Institute. So, don't forget to peek around the corner at all of the local artists' beautiful work!
Conclude your weekend trip with a relaxing swim in our pool before enjoying dinner at Coyote Steakhouse, where you can enjoy the fillet just as much as their vegetarian options.
About The Springs at Borrego
The Springs at Borrego RV Resort provides spacious RV sites, fully furnished park models, top-notch amenities and recreational activities, like our nine-hole championship golf course.
Book your next RV getaway, today! Our Anza-Borrego RV Resort will simply exceed all of your expectations of what a luxury RV resort should offer.