A Dream on Ghost Mountain
"Crackle of burning wood in the grey light of dawn — the aromatic tang of smoke lifting like incense in the chill morning air."
These evocative words are from Desert Refuge No. 21 and were written by Marshal South, the enigmatic author and homesteader, on lonely Ghost Mountain in April 1943.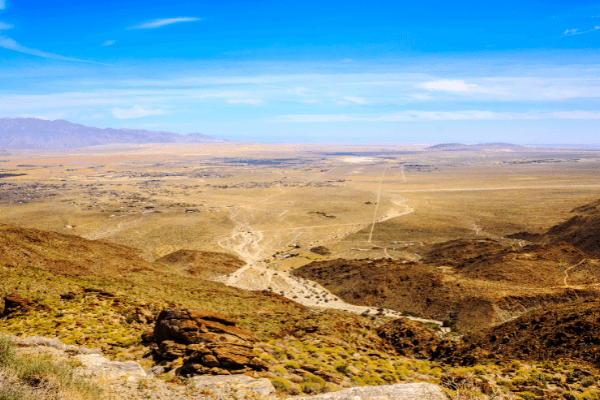 Ghost Mountain
Hike the short, steep Ghost Mountain trail in the Anza-Borrego Desert to Yaquitepec, the ruins of the adobe home built by idealist writer Marshal South. He, his wife, and their three children lived there from 1930 to 1947 without electricity or running water. They lived simply by planting a vegetable garden, harvesting seeds and fruits from desert plants, and emulating the practices of Native Americans to conserve precious little rainfall.
Despite – or perhaps because of – the family's Spartan lifestyle, Marshal South's writings were hugely popular. His articles and poetry about desert life inspired a tremendous readership for Desert Magazine, the Saturday Evening Post, and Arizona Highways.
Payments from the magazines allowed Mr South and his family to occasionally come to Julian to stock up on supplies. Eventually tiring of the primitive life and disagreements about child-rearing caused his wife to finally leave him. In 1947 the family departed their cabin. Today all that remains of his rugged idealism are some crumbling adobe walls, an old mattress frame, and a few barrels.
Although Mr South passed away in 1948 and was buried in Julian, his words live on. You can still purchase his "Marshal South and the Ghost Mountain Chronicles – An Experiment in Primitive Living" at the Anza-Borrego Foundation State Park Book Store, 587 Palm Canyon Drive Suite 110, Borrego Springs, CA 92004.
Hike the Ghost Mountain Trail
Ghost Mountain Trail to Yaquitepec is a 1.1 mile out and back trail near Julian whose series of switchbacks feature beautiful wild flowers. The trail is rated as moderate and is ideal for hiking, bird watching, and enjoying nature. When you reach the summit, you will be rewarded by dramatic views of the desert, plants, and wildlife below.
Request your stay at Southern California's most unique camping experience – the Springs of Borrego RV Resort and Golf Course – to visit the ghost of Marshal South and Ghost Mountain.