What is a Superbloom?
Superblooms are rare events and require the exact combination of rain and sunshine. The last one took place in 2019 after an unusually wet winter. Now, heavy rain storms affecting the coastal regions of California have sent some of that precipitation to the Anza Borrego Desert prompting speculation of another superbloom.
Winter Showers Bring the Wildflowers
We've had 2.25 inches of rain in January, and the forecast continues to call for rain through February. Experts say there will not be another superbloom this year, but beautiful flowers are already bursting forth in great numbers. Reserve your stay at The Springs at Borrego RV Resort & Golf Course to seize this opportunity to enjoy a carpet of purple, white, and yellow flowers. Henderson Canyon Road is an especially good spot to see sand verbena, desert sunflowers, and desert primrose.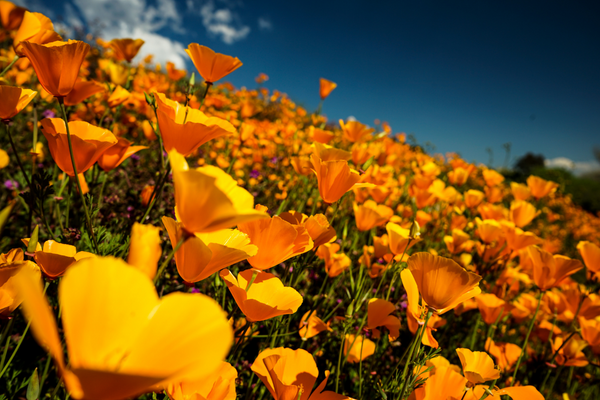 Flower Etiquette
The crush of people wanting to experience the superbloom of 2019 was so great that many blossoms were trampled in the stampede to see them. In order to avoid a repeat of that situation, the mayor of Lake Elsinore has closed popular Walker Canyon indefinitely. A smashed flower cannot make seeds. No seeds mean no more flowers. If visitors are careful, that won't happen here.
So remember…
Please do not stop in the road
Pull over to the side of the road to view the wildflowers and take photos
Do not park on any vegetation
Leave no trace and take only memories
Please leave the wildflowers for others to enjoy
Flower Identification
From cactus to poppies, there are hundreds of flowering species in Borrego Springs. Visit the Desert Bookstore of the Anza-Borrego Natural History Association at 652 Palm Canyon Drive to find a wealth of books with pictures of every plant and flower to be found as you meander through the desert of Anza Borrego State Park looking for the superbloom.