Ancient Ironwood Trees in the Anza-Borrego Desert
The Desert Ironwood, the largest tree in the Anza-Borrego desert region, can grow up to thirty feet tall and live over one thousand years – and yet it is a legume, just like your garden snap peas! If trees could talk, what tales of desert history and mystery they could tell!
Look for this tree growing in the sandy soil of desert washes such as the San Felipe Wash, especially from the Narrows eastward (where it crosses Borrego Valley Road), or in Hawk Canyon, and remember to look up. The beautiful lavender, pink and white flowers of the desert ironwood trees that appear in late April through early June may require binoculars to see.
Desert Ironwood (palo fierro in Spanish) is the world's densest wood. A piece of ironwood, when cut from the tree, will actually sink when placed into water. The ironwood tree was the local pharmacy for early human residents of the desert. A paste made from the root could cure gum infection, and tea made from the leaves helped asthma. The tree's hard wood was used for fence posts, firewood and arrowheads.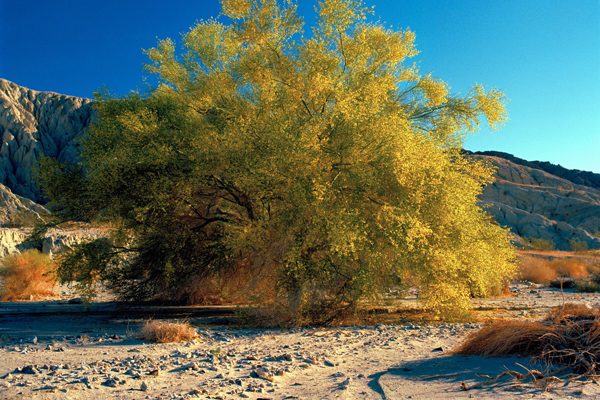 Hike to See Tall Desert Trees on Fridays
Now that group activities have returned to The Springs at Borrego RV Resort and Golf Course, you can join the other guests for Friday morning hikes at 9:30am. Meet in the parking lot, wear your hat and hiking shoes, and bring water and sunscreen. The hikes are never harder than 'moderate' and last from 2 – 4 hours. Check the Events Calendar to plan your vacation around a healthful hiking experience. Will you see Desert Ironwood trees on your hike? Maybe! That depends on the chosen trail.
Ironwood vs Iron/Wood
You may be tempted to think that Ironwood is the material used for hybrid iron-wood golf clubs. Nope, not so. Hybrid golf clubs are a mix of woods and irons that combine the best features of each into one club. The hybrid will take the easier swing mechanics of iron play and combine it with the more forgiving nature of wood. Visit the Pro Shop and ask if Irons, Woods, or Iron/Woods are right for you.
Hiking, Golf, and Ancient Desert Ironwoods at Southern California's Most Unique Camping Experience – The Springs at Borrego RV Resort.