Another Perfect Agenda for a Long Weekend Trip to Borrego
Three days of The Springs at Borrego. There's so much to see and do – can one long weekend possibly be enough?
Here's your perfect weekend agenda… Friday
Evening – Check in and be amazed by the inky blackness of the only internationally recognized Dark Sky Community in California. With the lack of man-made lights intruding, you see the uninterrupted beauty of the stars.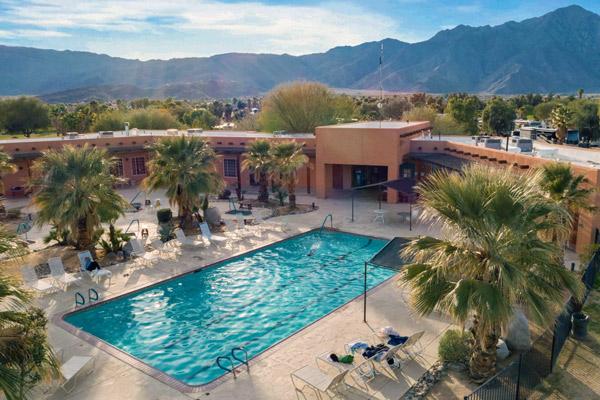 Saturday
Morning – It's a great day for breakfast outdoors in your own spacious site. It's a great day for your doggie, too – we have spacious grounds to walk and a dog park for them to romp around and make new friends.
Practice your tennis with a companion. And when our planned activities are back in action, try low-impact water aerobics in the pool on Saturday mornings (check with the front office for details).
Afternoon – Get outside! Pull out the bikes and cruise on down to explore Christmas Circle and all that our quaint town has to offer. Once you've made it back to the resort, cool off with a quick dip in our salt-water pool and spa.
Evening – Treat yourself to carry-out dinner from one of our local restaurants, like Red Ocotillo, Kendall's Café or Carmelita's Mexican Grill. While eateries are not open for indoor seating at this time, there are still a lot of good options for some yummy tacos or pizza to go!
Sunday
Morning – Visit the dragon! Galleta Meadows is an unexpected desert delight. A local landowner teamed up with a sculptor to create a menagerie of large metal animals that once lived in this desert (mastodons, sloths, wild horses), but also some fanciful ones (like a dragon). Due to current restrictions, you are not permitted to get up close and personal with the sculptures as usual, but it's definitely worth a drive around town to see these amazing works of art. Even from afar!
Afternoon – Golf! Our custom-designed 9-hole championship golf course offers a dramatic island green, lakes, water features and frequent sand traps. With narrow fairways, long par 3s, lush palm trees and wading geese, this course is sure to challenge and delight.
Evening – Stay in and watch any movie you want to. We have FREE cable TV and WiFi.
Monday
Morning – Re-invigorate yourself with a morning yoga video, let your doggie say goodbye to his new friends at the dog park, and bid your hosts a fond farewell.
We hate to see you go, but guess what… there will be even more to do at The Springs at Borrego on your next RV trip to Borrego, like mineral baths, volleyball, fishing, and our amphitheater – just right for basketball and live music events.
Make sure you reserve your next stay before you leave. See you again real soon!