Anza Borrego Desert – Wisdom of the Cahuilla People
Long before gold miners and folks in covered wagons descended on California, the Anza Borrego Desert was populated by Native Americans known as the Santa Rosa Band of Cahuilla People.
The desert plants, the mighty rocks, and the stars in the sky that shaped their lives are still there, still calling to modern people with the same timeless appeal.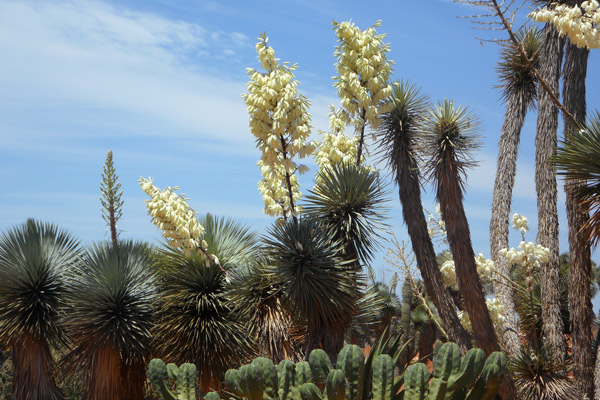 Yucca – 'Our Lord's Candle'
Just like other plants in this arid region, Yucca – known in Cahuilla as panu'ul – grows slowly. But with the very occasional rain, the clump of sharp, pointed leaves will suddenly produce a central spike, which shoots up 4 – 6 inches per day! The humble yucca stores its energy for years to produce the towering, flowering cream-colored 10-foot stalk the Cahuilla call 'Our Lord's Candle.'
Besides being a beautiful and noble plant, panu'ul was also a useful one to the early Native Americans. The young stalks were harvested just prior to blooming when they were moist with sap. They were cooked overnight in stone – lined pits. Then they were dried, ground into flour, mixed with water, and made into cakes. The young blossoms were parboiled and eaten or dried for later use.
The fibrous spiky leaves were used for weaving baskets and the sap and root were used to make soap.
Sadly, as soon as the stalk is full grown and produces shiny green seed pods, the plant dies. Once the seeds are produced, panu'ul is no more.
Up close, the flowering stalks of yucca are truly magnificent, but even in death on the hills above the canyons they seem alive. From a distance the dry stalks of panu'ul appear as ancient warriors keeping watch over the land.
Could you live on the fruit of 'Our Lord's Candle'?
Explore the vast and other-worldly Anza-Borrego Desert. Imagine the lives of the Ancients as you connect with thousands of years of civilization.
History comes alive when you book your stay at The Springs at Borrego RV Resort and Golf Course. Do it today! Request your stay today!