Apple Desserts & Desert Books
Did you wake up this morning and shriek, "OMG! I forgot Uncle Henry!" If last minute holiday shopping for your far-away relatives and book-worms in the RV has you in a tizzy, help is just 30 miles down the road in Julian!
People and Pies
The 2020 apple harvest season is officially over, and with it, the opportunity to pick your own apples. That's OK, because you're in a hurry to finish your holiday shopping. Take yourself to…
The Julian Pie Company
At 2225 Main Street in Julian for 10 types of delicious apple and other fruit pies, apple pie mixes, apple cookies, pot holders, pie servers, and logo mugs. They ship!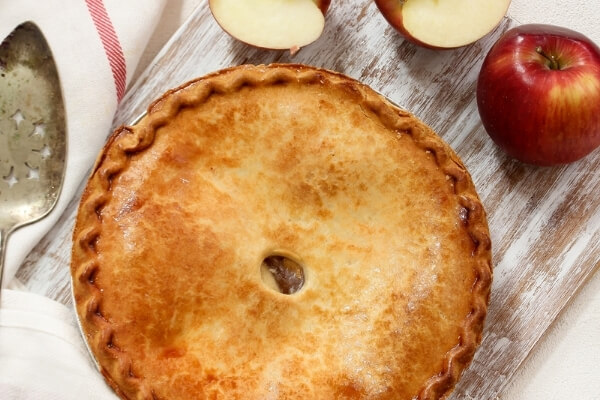 Julian Pie Company offers 2-day and overnight delivery options:
2 DAY DELIVERY: Pies are freshly baked and shipped on Monday, Tuesday and Wednesday via FedEx 2-day delivery.
OVERNIGHT: Pies can also be shipped Monday – Thursday via FedEx Overnight delivery.
Whew! Uncle Henry will be able to enjoy his fabulous apple dessert in the nick of time. Take a couple more pies back to the RV to make your own holiday getaway even more festive.
Desert Life and Books
It's impossible to trek through the harsh beauty of the Anza-Borrego desert without wondering about the ancient people and animals who called it home.
The Cahuilla were semi-nomadic people, spending their winters in the desert lowlands and moving to higher ground in the Santa Rosa Mountains from late spring through the acorn and pine nut harvest in the fall. They did not have apples like modern folks, but if they did have them, they would have stored the apples – along with the nuts – in pottery jars called ollas. Sometimes hikers can find broken bits of Cahuilla pottery as they wander.
Read all about the desert history that surrounds us…
Strangers in a Stolen Land by Richard Carrico
Native-Americans of San Diego County from pre-history to 1935, including the Cahuilla people and the Spanish, Mexican, and American periods with maps and illustrations.
Old Magic: Lives of the Desert Shamans by Nicholas Clapp
Documentary filmmaker and author Nicholas Clapp presents a rare glimpse into the traditional spiritual practices of Southwest Indian peoples. Drawing on the lore of a dozen tribes he describes the year-to-year life of a shaman–a life of service to his people, fraught with danger–often to the edge of madness. Paperback.
Fossil Treasures of the Anza-Borrego Desert by Dr George Jefferson
A review of North America's most complete continuous history of life – beginning almost seven million years ago – is one of the richest fossil records in the Western Northern Hemisphere, written by leading scientific specialists and educators throughout the United States. Showcased are marine mammals, mammoths, giant ground sloths, saber-toothed cats, camels, fossil footprints, paleoclimate, and ancient landscapes.
Look for these books and many others in the Native-American section of…
Julian Book House at 2230 Main Street (across the street from the Julian Pie Company) sells both new and used books. You never know exactly what you'll find there, but it's sure to be exactly what your readers back in the RV are hoping for.
Stargazing Under the Only International Dark Sky in California
The Springs at Borrego RV Resort is a haven for stargazing. As a Designated Dark Sky Community, Borrego Springs protects the night sky-a valuable natural resource-from light pollution, so that everyone living and visiting here can enjoy the glittering moon and stars. And this Christmas season, the sky sights include the rare conjunction of planets that just may be the Star of Bethlehem.
Reserve now – Don't wait! The extra-close Jupiter-Saturn conjunction in 2020 won't be seen again until March 15, 2080.
Stay at the Springs at Borrego RV Resort and Golf Course and enjoy a Christmas Stargazing & Gift-Giving experience like never before! Request your site today!