Apple Harvest Time in Julian
Once a prosperous gold-mining center, the small town of Julian is now home to several family farms that produce apples, pears, and cider. Located just west of The Springs at Borrego RV Resort & Golf Course on CA 78, this historic community boasts a time-honored heritage of orchard-tending and cider-making. Take the family to experience real foods and friendly people when it's apple harvest time in Julian.
When Is Harvest Time?
Different varieties of apples ripen at different times during the fall. Gravensteins ripen in August. Red & Gold Delicious apples are ready in September. And those slightly tart Granny Smith apples ripen in October – they are great for pies!
Come to Julian in September and October for several kinds of apples and cider. It's always apple harvest time in Julian when you visit any of the bake shops and restaurants that serve delicious apple pies and cobblers year-round.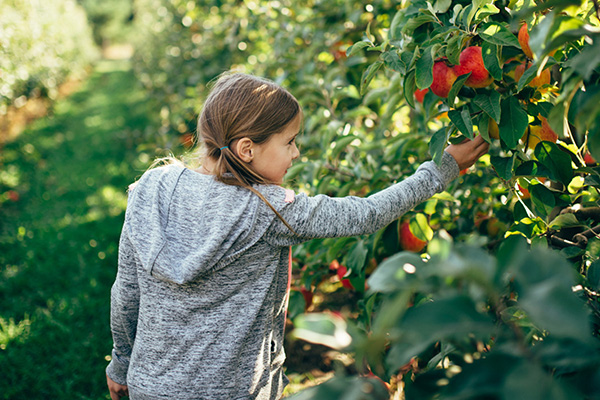 Pick Your Own Apples
Fun for grown-ups, fun for kids. Many of the family farms in Julian allow your family members to pick their own apples. You and your children will feel like real farmers when you fill your basket with the exact, precise ones you want and take them back to your campsite at The Springs at Borrego RV Resort.
Apple harvest begins in September and may last into October. It's always a good idea to call before you go. Here are some farms that offer 'Pick Your Own' apples when it's apple harvest time in Julian.
Peacefield Orchard –Pick Red and Golden Delicious, Jonathan, and Jonagold. Granny Smith apples are more likely in October. Visit Peacefield Orchard at 3803 Wynola Road in Julian. Call 310-902-6321 for more info.
Julian Mining Company – An apple orchard with a whole lot more! Granny Smith apple picking begins October 15th with a variety of fun activities like gold panning, fossil digging, gem sluicing, tomahawk throwing, and a mini train ride. Visit Julian Mining Company at 4444 Hwy 78 in Julian. Call 951-313-0166 for more info.
Volcan Valley Apple Farm – A seasonal apple-picking farm with 8000 trees and seven varieties of apples. The apple harvest begins on September 8 and continues until the trees are picked clean of apples. Visit Volcan Valley Apple Farm at 1284 Julian Orchards Drive in Julian. The cost is $15 per bag which holds about 6-7 lbs. and includes one admission. Active military with an ID pay $10. Extra admission is $5 per person. Children 5 and under are free.  Call (760) 302-4574 for more information.
Borrego Days Desert Festival and Apple Season Go Together
Cooler weather returns to Borrego Springs in October, and with it comes apple harvest time in Julian as well the Annual Borrego Days Desert Festival.
Reserve your Autumn getaway at The Springs at Borrego RV Resort & Golf Course to enjoy fresh-picked apples and the Annual Borrego Days Desert Festival, October 21st-22nd at Christmas Circle Community Park in Borrego Springs.
Reserve Your Stay Today