ATV Riding at Ocotillo Wells
Off-road vehicles and geology at Ocotillo Wells State Vehicle Recreation Area go together like riding and great weather. The weather is perfect right now to take your ATV into the far reaches of the Anza Borrego Desert to see evolving sights that are caused by wind, the occasional rain, and the relentless creep of tectonic plates beneath our feet.
Fuel up before you leave The Springs at Borrego RV Resort to enter the 85,000 acres of magnificent desert. Take plenty of water with you. No water is available out there.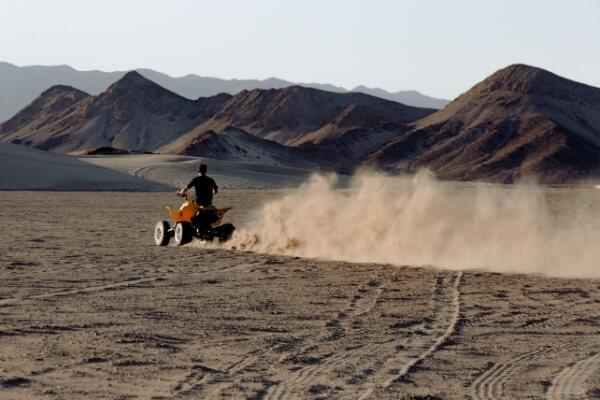 Here's What You'll See
Blowsand Hill – Just as the name implies, this vast dune was made by the wind carrying grains of sand miles uphill.
Devil's Slide – A 200 foot high decomposing granite mountaintop, whose side is coated with a dark desert varnish, as a result of being exposed to sunlight. Supposedly haunted, old mineshafts are hidden along the mountainside.
Barrel Springs – An oasis for wildlife, these mesquite dunes attract coyotes and other animals to springs that seep from the ground. Please do not ride close to the edge of the dunes, as this kills the mesquite roots. Without the mesquite, the dunes would blow away.
Shell Reef – Like the song says, 'the desert is an ocean with its life underground.' Examine the soil at Shell Reef – you will find whole shells and pieces of reef that are four million years old. Shell Reef was pushed out of an ancient sea during a time of tectonic upheaval that built the surrounding mountains. Please do not climb on the Reef.
Gas Domes – Desert watering holes produce mysterious gas bubbles that rise up through the muddy water because of cracks in the desert floor.
Pumpkin Patch – Just like pearls in oysters, desert 'pumpkins' are large balls that are formed by the action of wind and water cementing sand particles to ancient shells, bits of rock, or even insects. Pumpkins continue to emerge! Please don't pick the Pumpkins.
Ocotillo Wells State Vehicle Recreation Area is located at 5172 Highway 78, Borrego Springs CA 92004 and is open 24/7 now through May 31.
No ATV? No Problem!
ATV Rentals are available at nearby Ironwoods Off-Road Rental at 4875 CA-78, Borrego Springs, CA 92004. Call them at (866) 230-2933 for rates, directions, and more information.
Book your vacation at The Springs at Borrego RV Resort and Golf Course before May 31 to enjoy all the wild wilderness of off-roading at Ocotillo Wells.