Bighorn Sheep in the Anza Borrego Desert
Bighorn sheep – sure footed, elusive, and perfectly colored to be camouflaged by desert scenery – are the namesake of Borrego Springs and the Anza Borrego Desert. 'Borrego' is Spanish for lamb. Normally wary of humans, bighorn sheep may come closer to popular hiking areas like the Palm Canyon Trail in November and December in their quests to find mates.
The mating strategies of bighorn sheep are amazingly like people – the most successful rams follow and tend to the chosen ewe in order to gain her acceptance. Other ploys, like days of combat between rams and blocking other male sheep from coming near the ewe don't impress the lady sheep at all.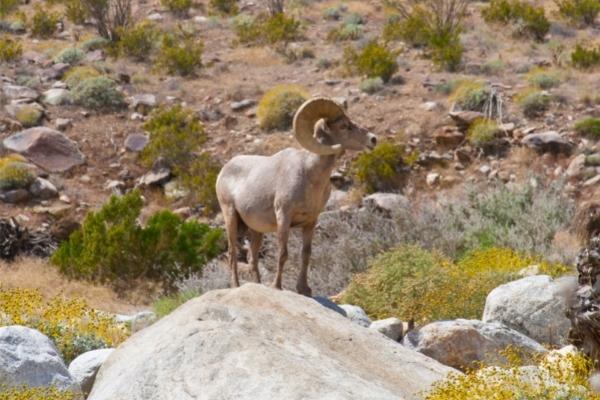 See Bighorn Sheep Now
Once numbering in the millions when they crossed the Bering land bridge from Siberia eons ago, populations of bighorn sheep have been decimated by diseases introduced through European livestock and overhunting. Mountain lions and coyotes play a role too.
By 1900, the population of bighorn sheep had crashed to several thousand. The species of bighorn that inhabits the Anza Borrego Desert is the Peninsular Bighorn Sheep. At the last count, there were less than 800 of those majestic, endangered animals.
Until 2020, volunteers braved the desert heat to wait and watch by watering holes to spot rams, ewes, and lambs. Sadly, the 50-year tradition of the citizen sheep count came to an end in June 2021 when the California Department of Fish and Wildlife decided to discontinue the volunteer aspect of sheep-counting.
Nevertheless, the CDFW continues their work to protect the population of Peninsular Bighorn Sheep with drone surveillance, radio collars, and increased public awareness. The good news is…it's working.
So plan a hike to Palm Canyon Trail now. You may be rewarded by the sighting of a bighorn sheep with 30-pound curved horns, climbing narrow ledges, seeking a mate. Take your camera! The lambs will be born in May.
Request Your Stay at The Springs at Borrego RV Resort & Golf Course to See Bighorn Sheep!