"It's a very rare occasion that we get a California wildfire anywhere near the valley floor let alone, on it," said local resident 'Lone Ranger' of a lightning strike that ignited a stand of old palm trees on August 21, 2014.
When wildfires happen at all, palm trees seem to be the preferred target. In May of 1970, Boy Scouts playing with matches lit the Borrego Palm Canyon trail on fire and in January of 2020, when a juvenile set fire to the same location, 60 mature palm trees went up in a ball of flame and smoke.
The Borrego Palm Canyon trail is the most popular hiking destination near the Springs at Borrego RV Resort, so those losses seemed quite the catastrophe. Or were they?
California Fire – Friend or Foe
Regarding fires, Jim Dice of the Anza-Borrego Desert Research Center says, "It's a temporary disaster in terms of tourism and park visitation, but there is evidence that seedlings come back like gangbusters after fires like this. The ash is rich in nutrients and it can also result in higher rates of flowering and fruit production."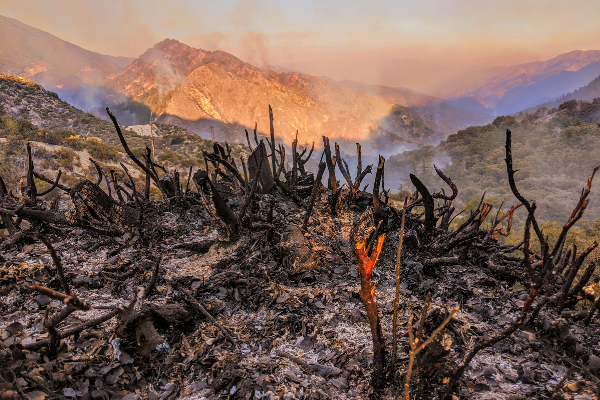 Benefits of Fire
Fire cleans the desert and forest floor by removing low-growing underbrush, thus opening it up to sunlight, and nourishing the soil.
Fire provides habitat for wildlife by clearing wildlands of heavy brush, leaving room for new grasses, herbs and regenerated shrubs that provide food and shelter for many creatures.
Fire kills diseases and insects that prey on palms and cacti. Vegetation that is burned by fire provides a rich source of nutrients that nourish remaining palms and other plants.
Fire causes the release of seeds. Some species of trees and plants are actually fire-dependent. They must have fire every 3-25 years in order for life to continue. Some Chaparral plants, including manzanita, greasewood and scrub oak require intense heat for seed germination.
Is Borrego Springs Safe?
Will you ever be exposed to a California wildfire anywhere near the Springs at Borrego RV Resort and Golf Course? Fear not. It's extremely unlikely.
Nevertheless, the California Department of Forestry & Fire Protection and the plants and animals of the Anza-Borrego Desert ask you to be very careful with campfires, cigarettes, and matches especially while hiking the canyons.
The Springs at Borrego RV Resort is your oasis in the desert. Water surrounds you with our luxurious pool, spa, fishing lake, water traps on the golf course, hot mineral baths, immaculate showers, modern laundry facilities, and a refreshing bath station for your doggie.
The Weather is Hot, But the Springs at Borrego RV Resort is Cool!