Catch a Falling Star This Fall
Catch a falling star and put it in your pocket, Never let it fade away.
This captivating lyric, sung by Perry Como in 1959, was the impetus for a generation of skywatchers. You can 'catch a falling star' this October when you reserve your stay at the Springs at Borrego RV Resort & Golf Course because that's when two meteor showers will light up the night sky.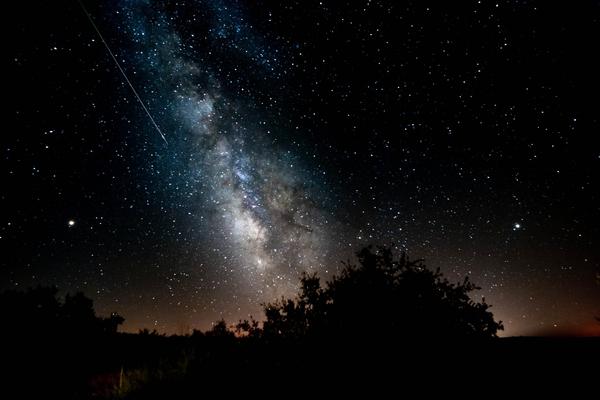 October 7 – Draconids Meteor Shower
Named for the Constellation Draco – the Dragon – the Draconid Shower is unusual because the best views of your falling star will be in the early evening instead of the wee hours of the morning, like most other meteor showers. The shower runs annually from October 6 – 10, and peaks this year on the night of October 7. Lucky you! You can watch for a falling star in a really dark location…Borrego Springs and the Anza-Borrego Desert are an internationally-acclaimed Dark Sky Community.
October 21 & 22 – Orionids Meteor Shower
The constellation known as Orion the Hunter is recognizable by his belt of three gleaming stars. Halley's Comet escaped from Orion thousands of years ago and has been showering the Earth with burning grains of dust every year from October 2 to November 7 since ancient times. This year, your best time to catch a falling star from the Orionid Meteor Shower is late at night on October 21 and early morning October 22.
Star-Studded Events Return
Just as the movement of stars follows predictable cycles, so does the calendar of events at The Springs at Borrego RV Resort & Golf Course. Starting in mid-October with Wine Tastings and Campfire Nights, and continuing through the end of the year with Aqua Fit, Cooking Demos, Open Mic, and the return of Star Parties, there are star-studded fun activities nearly every day and night.
November 13 and December 4 – Star Parties
Plan ahead! Hosted by famed astronomer Dennis Mammana, Star Parties are held at the Springs Moonlight Amphitheatre and feature a light dinner, a star talk by the host, and telescope viewing of the stars. RSVP at the office.
Stargazing in the Anza Borrego Desert
You can catch a falling star later this Fall, but the summer rates are still good through September. Come for the shooting stars in the dark sky and stay for the beauty of the desert, the deluxe amenities, and the superior guest services at The Springs at Borrego RV Resort & Golf Course.