Christmas Comes Early with a Wildflower Bloom in the Desert
Was it Santa Claus or Mother Nature who came on November 3 and gave the Anza-Borrego Desert an early gift? We got a little more than half an inch of rain! Whether hiking or driving, visitors to the desert have been rewarded with an abundance of blossoms. If you love desert wildflowers, reserve your stay at The Springs at Borrego RV Resort and come right away for this special Christmas wildflower bloom.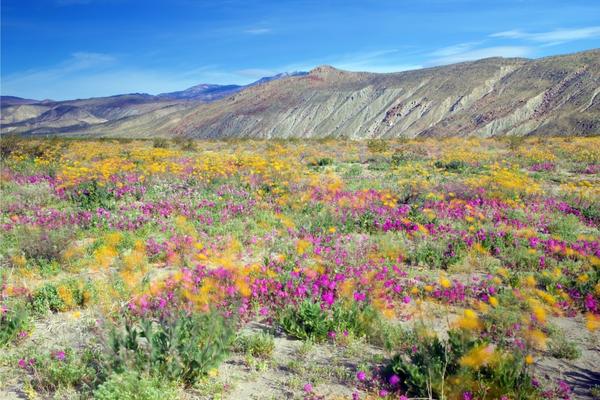 Where to See the Wildflower Bloom
Splashes of purple, white, and yellow stand out against the red rocks and earth tones of the desert. Look for purple Sand Verbena, white Evening Primrose, and yellow Desert Sunflowers where Di Giorgio Road meets Henderson Canyon Road. Or hop in the car and go further to Peg Leg Road to see Brittlebush and many other flowers.
More Early Christmas Gifts
New RV sites have been in the works for quite some time. Guess what? They're ready! Surrounding the golf course, these 37 new RV sites offer spectacular views. Many are pull-through for easy parking. Look how pretty!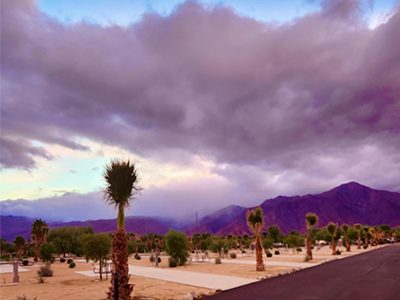 One of these new camp sites is just right for you!
Here's What Else is Happening at The Springs
Cooking demos, wine tastings, and sports tournaments, hiking to see the flowers, aqua fit, and a New Year's Eve Dance Party, that's what! Lots more too!
Give Yourself the Gift of Nature
A winter wildflower bloom is a rare sight, indeed, as the desert usually produces flowers in February or March, with cactus flowers appearing in March or April. So treat yourself to the sight of the desert in bloom this Holiday season in one of the deluxe new RV spaces. You deserve it!
Happy Holidays from The Springs at Borrego RV Resort & Golf Course!