Dinosaurs in the Anza Borrego Desert
With no formal art training whatsoever, a cowboy-boot salesman was persuaded by his young daughter to create a dinosaur sculpture after she had seen the movie Jurassic Park. He made a 20-foot tall, 45-foot long metal statue of Tyrannosaurus Rex as her Christmas gift.
His success with the first sculpture gave the Durango, Mexico artist Ricardo Breceda the impetus to create more. Passersby would see the statues in his studio – by then located in Perris, California – and want to buy them. Finally, he was commissioned by philanthropist and art collector Dennis Avery to create 130 metal sculptures for his estate at Galleta Meadows, based on fossilized creatures found in the Anza-Borrego Desert.
Mr. Avery's wish was fulfilled before he passed away in 2012, but Breceda continued to make fantastic-welded statues.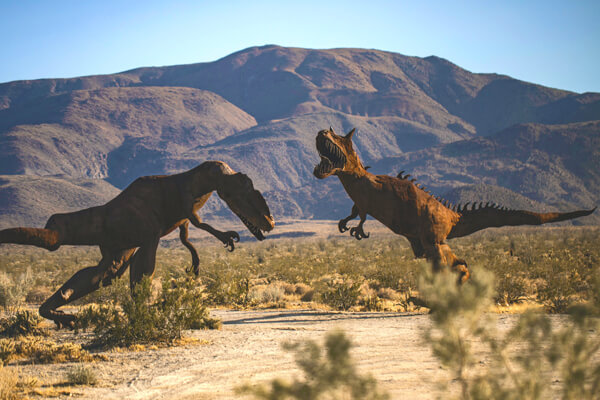 Getting to Galleta Meadows from The Springs at Borrego RV Resort
Just 7 miles north of the Springs at Borrego RV Resort and Golf Course lies the open-air desert sculpture gallery of Breceda. Take Di Giorgio Road and Borrego Springs Road to Galleta Meadows at 1700-1844 Borrego Springs Road.
There you'll see dozens of large, free-standing metal sculptures of prehistoric animals such as mammoths, giant birds and saber-toothed cats, as well as leaping horses and imaginary creatures. The heavy-duty sculptures created by the metal artist weigh between 800 and 1,000 pounds each.
His repertoire has grown over the years. Now the prehistoric beasts are joined by metal statues of Native Americans, a Spanish Padre and his dog, a demon, a mariachi band, a horse-drawn stagecoach, giant sloths with metal 'fur', the famous Sea-Serpent, Kokopelli, and anything else that attracts his attention.
No two of his works are alike. There is no charge to view the creations of Breceda, known as "The Accidental Artist" and "The Picasso of Steel." Nowadays, his little daughter is all grown up and assists in the creation of these stupendous works of art.
Take Home a Memory of Ricardo Breceda
Breceda carefully places his works in natural desert settings where they will look the best – generally far away from other sculptures. Take pictures. Takes selfies. Take home a memory of the biggest and most imaginative art works ever.
Enjoy Works of Art in an Open-Air Desert Environment – Unique in All the World. Reserve your unforgettable stay at The Springs at Borrego RV Resort and Golf Course.