Eyes on the Sky – March Stargazing in the Desert
March 9 & 10 – Early morning!
Take advantage of the super-dark skies above the Springs at Borrego to witness an impressive cosmic huddle on March 9-10. Dedicated sky-watchers will thrill as four worlds cluster in the southeast morning sky. Mercury, Jupiter, and Saturn will all appear in near-perfect alignment, while the crescent moon will frame the trio of planets. Each heavenly body will appear as a brilliant dot, with Mercury being the faintest and Jupiter the brightest-all easily visible to the naked eye.
Even though our sky-watching parties have not yet returned, stargazers will be able to trek to a quiet place in the Anza-Borrego Desert and spot Jupiter's four largest moons with regular binoculars. Bring a small telescope to reveal Saturn's rings. Because of Earth's position relative to Mercury and the sun, only half of the innermost planet's disk will appear illuminated. As a result, Mercury will look like a miniature version of the quarter moon.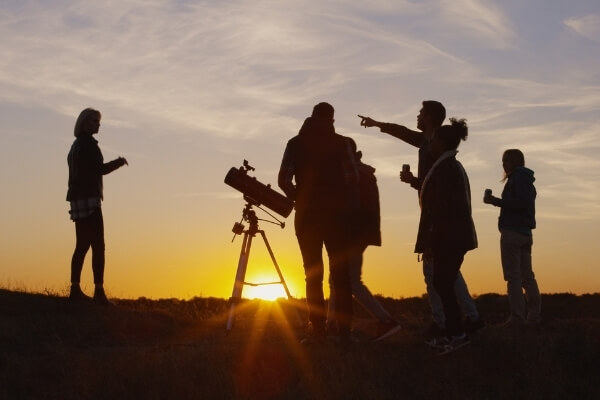 March 20 – Vernal Equinox!
You don't need to watch the sky to feel the effects of Old Sol shining directly on the Equator on March 20. Equal amounts of daylight and darkness signify the arrival of Spring, lengthening days, and more time to enjoy outdoor activities – like golf – and the beauties of the desert.
#1 Thing to Do in February – Plan Ahead to Play Golf in March
It's never too early to plan ahead. Book your stay now to watch the heavenly panorama in March or to play golf here on Earth. The custom-designed, perfectly-maintained golf course is open and ready for all RV guests at the Springs at Borrego RV Resort. With more daylight, you'll enjoy our 9-hole championship course even longer. Check the rates, golf packages, and membership options right here. Then call the Pro Shop to rent clubs and book your tee-times.
Eric M says on Facebook, "Very well managed resort – the spaces are big and kept clean. Lot of spaces with golf and Mountain Views. Golf Course well kept up and well run. I will be coming back in September and keep this on my list of places to come at least twice a year."
What will you say? Join the legions of visitors who rate the Springs at Borrego RV Resort and Golf Course as Five-Stars!
Southern California's Most Unique RV Camping Experience Invites YOU to Discover the Heavens, Enjoy our Championship Golf Course, and Admire the Splendor of the Anza-Borrego Desert. Book Now!