Fairy Dusters and Concerts in the Desert
After a teeny-weeny bit of rain fell in late December 2021, wildflower enthusiasts started hiking through the desert looking for buds, or at least encouraging signs that an exuberant burst of blossoms might be on the way. That is almost certainly not going to happen, as Borrego Springs is currently in the midst of a drought. Good news though! Concerts in the desert have returned, and here and there, the occasional fairy duster gave hope that visitors might be treated to another Super Bloom to rival that of 2019. So far, only a Fairy Godmother's magic wand could make all the slumbering desert plants burst into flowers. In the meantime, you might be wondering…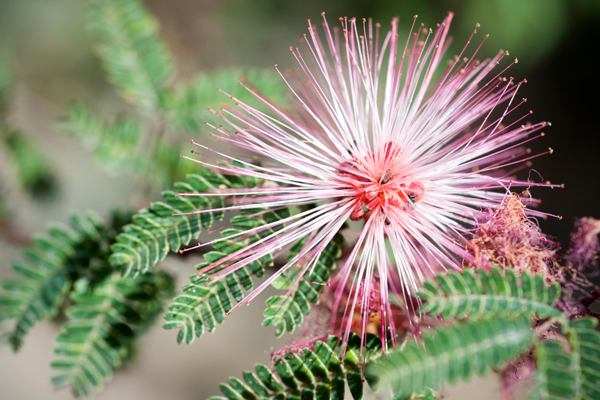 What is a Fairy Duster
Occasionally red, but mostly hot pink, these unique, feathery, pink balls resemble fluffy make-up brushes and attract butterflies, hummingbirds, and a wide array of other desert bird species. After flowering, the fairy duster produces long, bean-like pods that attract quail and other wildlife.
Although picking or uprooting flowers in Anza-Borrego State Park is a no-no, you can often find growing plants or packets of fairy duster seeds at garden shops. They are easy to grow. After all, Calliandra eriophylla has been enduring harsh desert conditions for thousands of years, so they're not fussy plants.
Grow Your Own Fairy Dusters
Take your fairy duster (that's easier to say, isn't it) home and plant it in a sandy, well-drained, sunny spot. It's a perennial shrub and can easily grow to 3 feet tall and 3 feet wide when mature. These hardy plants are perfect for desert and rock gardens. They require virtually no care at all!
Few Flowers this Year, So Plan Ahead for Super Concerts in the Desert
There's no telling if any year will produce a wild explosion of wildflowers, but one thing's for sure…Springtime always produces a wild explosion of RVers who visit the desert for the Coachella and Stagecoach music festivals. Folks love to stay here to refresh and recover from the concerts in the desert. (FYI…both Coachella weekends are sold out already. There are still some tickets available for Stagecoach, April 29 – May 1).
Whether you are hoping for flowers or combining music with golf and laid-back enjoyment here at The Springs at Borrego, don't wait until the last minute to book your stay. The weather is just perfect this time of year, so reserve your stay now. Then if the Fairy Godmother waves her magic wand, you will be among the fortunate few to see the awe-inspiring sight of the desert in bloom.