Find the Best Summer Wines in Julian
"Wine is sunlight, held together by water" ~ Galileo
When life slows to a crawl in the summer sunshine, there's only one thing to do…hop into the car and head to the Volcan Mountain Winery in Julian for a lazy afternoon drinking the best summer wines.
Hot weather is the perfect time for sparkling wines, Rieslings, and rosés. And guess what? Volcan Mountain Winery offers all of those wines and many more.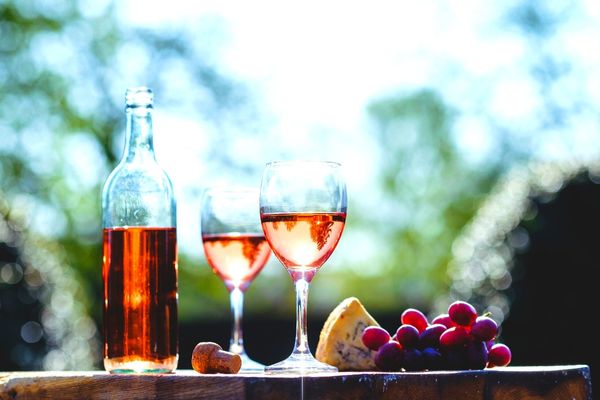 Sparkling Apple Wine
Pomme d'Amour is a sparkling wine produced from the 18 varieties of apples growing in the orchard alongside the grapes. Serve this unique Julian wine chilled. It's perfect to share with friends while enjoying the views of Volcan Mountain from the Winery's patio.
Enjoy the Taste of Summer with an Award-Winning Rosé Wine*
As far as the best summer wines are concerned, it's hard to beat the refreshing qualities of a well-crafted rosé. Try Volcan Mountain's 2020 Grenache Rosé – this subtle, delicate wine is completely dry with elegant notes of strawberry, watermelon, and cherry. Just perfect for sipping on a warm afternoon.
*Special Note for Wine Enthusiasts – The 2020 Grenache Rosé won the Silver Medal 2021 OC Fair Wine Competition and the Silver Medal 2021 Toast of the Coast Wine Competition!
Here's how Kim B described these two wines on Google Reviews, "Nice space and grounds. Staff was knowledgeable and friendly. The wine was good, apple wine was surprisingly yummy and not sweet. The rosé was my favorite."
Riesling – the Best Summer Wine is Sweet-Tart & Delicious
With crisp acidity and a sweet-tart 'green apple' quality, Volcan Mountain's 2020 Riesling has hints of tropical fruit and cut flowers. Take a bottle back to your RV at The Springs at Borrego or enjoy it at the Winery while listening to live music.
Michael N had this to say on Google Reviews, "Great service and great wines – try their Riesling! The live music is great and the overall vibe is just fantastic."
Visit Volcan Mountain Winery at 1255 Julian Orchards Drive in Julian and treat yourself to the best summer wines when you treat yourself to the best summer vacation at The Springs at Borrego RV Resort & Golf Course.