Font's Point in the Borrego Badlands
The mercury is going up thus making the rates go down, which means it's a great time to visit Font's Point, an overlook to the Borrego Badlands, just a few miles from The Springs at Borrego RV Resort and Golf Course.
What's Out There in Font's Point
Just four million years of compressed geology, that's what. It's hard to imagine that the other-worldly, eroded landscape of the Badlands was once under water, but it's true. Millions of years of winds and sudden, heavy rain storms caused the soft rock to wash away, leaving gullies, hoodoos, and buttes with no topsoil. And it's still happening. Nature doesn't sleep. Millions of years from now – if the world is still here – the Borrego Badlands might be as flat as the valley floor.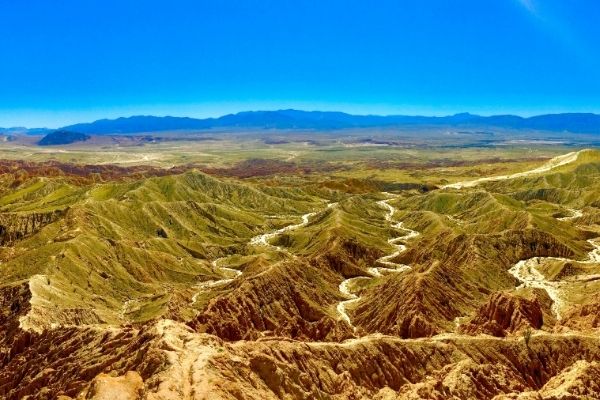 Font's Point is off the beaten track, but only about 9 miles away. Hop in your car – 4WD is best – and drive north through Borrego Springs until you get to the S22 on the north side of town. Turn left onto Palm Canyon Drive (S22) and follow that until you see a small sign on the right hand side of the highway that says, 'Font's Point'. Turn off there.
Once at Font's Point Overlook, you'll see the sweep of Earth's history – the climate changes, the corrugated ridgelines, and fossilized life forms – written by nature in the Badlands.
When to Go to Font's Point
Sunrise or sunset are the best times to go because the temperatures are a little cooler. Check the weather by scrolling down. When you reach the Overlook, you'll have an unbroken 360˚ view of the Anza Borrego Desert below. Take your camera so you can show the folks back home the amazing sights.
When to Come Back
Come back to The Springs at Borrego RV Resort when you're ready to enjoy all of the joys provided by water – the saltwater swimming pool, the hot tubs, the catch 'n release lakes and fishing ponds, and the irrigation for our award-winning golf course.