Full Buck Moon Rise on Independence Day
Forget the fireworks. The full Buck Moon rises at 9:44 p.m. Pacific Time on July 4th! Traditionally, the full Moon in July is called the Buck Moon because a buck's antlers are in full growth mode at this time. We are passionate about the heavens at The Springs at Borrego RV Resort. Discover the magic of the moon and the night sky when you stay with us!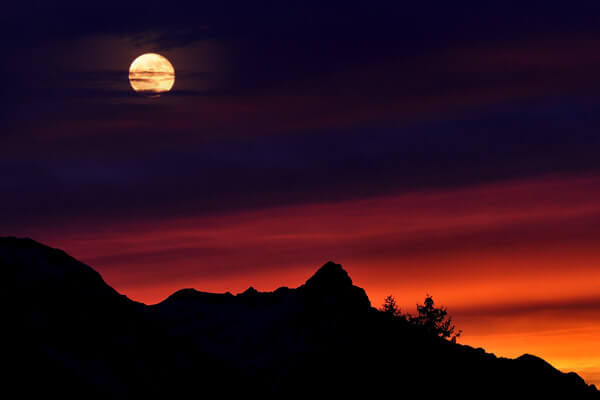 Home for the Fourth of July in Your RV
Grilling venison to honor the occasion? Venison is VERY lean, so there's little room for over-cooking errors. This method works well for bison and lean beef, too.
Grilled Venison Tenderloin (also known as Backstrap)
Start with a piece of backstrap that's at least 10 inches long, which is usually about 1 pound. Depending on how wide it is, that will feed 2 to 4 people, depending on what else you have on the plate. Coat it in olive oil and salt it really well.
Grill over high heat, but with the grill cover open. This is important. You can grill-roast a venison loin, but it will overcook way faster because heat under the grill cover will cook the top of the loin almost as fast as the part that is closest to the fire. Take your time and let the fire do the cooking.
Use the 'finger test' to check for the desired done-ness.
Lastly, let your grilled venison rest, tented with foil, for at least 5 to 10 minutes before cutting into it. You can wait up to 15 minutes before losing too much heat if your backstrap is very thick. Cannot stress how important this is. Really. If you learn nothing else from this venison tenderloin recipe, remember to rest your meat!
Serve with Red, White & Blue Potato Skewers
Did you know that potatoes come in colors? Now you do. All natural too!
Ingredients
1 tsp. Salt
1/2 cup Sprouts Extra Virgin Olive Oil
12 Bamboo Or Stainless Steel Skewers
6 each med. Red, White And Blue Potatoes
Juice Of 1 Lemon
3 Cloves Garlic, Minced
Directions
If using bamboo skewers, soak in water 30 minutes before grilling.
In a large plastic freezer storage bag, combine garlic, lemon juice, salt and olive oil.
Wash potatoes and cut in half.
Add to garlic-olive oil mixture and marinate 15 minutes, up to an hour.
Preheat grill at medium heat, about 450ºF.
After marinating, thread potato halves onto skewers in a red, white and blue pattern, with one of each color potato per skewer, skin sides all facing the same direction.
Remove skewers from marinade and place on grill, cut side down.
Grill 15–20 minutes or until fork-tender, flipping to skin side down in the last five or so minutes.
Don't grill them skin side down too long, or you'll lose the patriotic color!

Relax by the pool as you contemplate the moon in the night sky on Independence Day and thank your lucky stars that you are living your best life in America.
Book now for 4th of July weekend. We fill up fast – don't wait! Or call us at (760) 767-0004