Hike the Cleveland National Forest in Autumn
If the harsh beauty of the desert has you pining for mountain breezes or a glimpse of the ocean's pounding surf, yearn no more. Just hop in the car and drive a mere 33 miles west of Borrego Springs on Montezuma Valley Road to the entrance of the Cleveland National Forest.
View the Whole World from a Mountain Top in the Forest
Mild Autumn weather beckons you to hike the trails through the Santa Ana Mountains in the Cleveland National Forest. Start by driving the scenic Sunrise Highway, then stop and park the car at mile marker 19.1 to hike the Sunset Trail.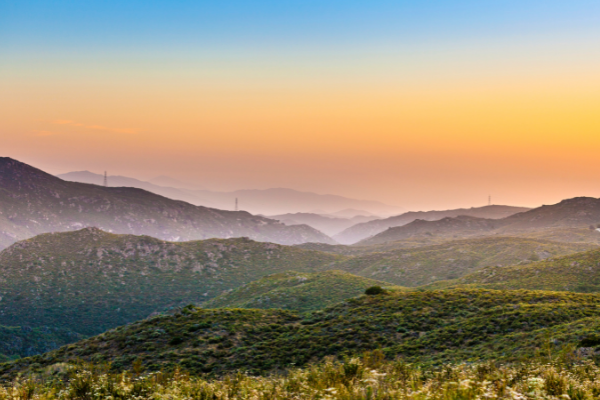 Sunset Trail
Leashed dogs are allowed on this 4.6 mile loop trail accessible from Sunrise Highway. The path winds through a lush forest of giant Jeffrey pines and black oaks, leading to open meadows, ponds and small lakes.
Take your camera to record sightings of Acorn woodpeckers, hawks, and turkey vultures, while you follow the trail to a lookout of the Pacific Ocean.
Pacific Crest Trail
Although the entire Pacific Crest Trail is a daunting 2663 miles long ending in British Columbia, the PCT has several trails within the confines of the Cleveland National Forest that offer climbs through chaparral, scrub oak and pines to the rim of the Laguna Mountains.
Kitchen Creek South to Kitchen Creek Falls – An easy 3.6 miles roundtrip. Perfect for novices and delightful in Spring and Autumn. Mostly flat with only a shallow incline, you'll have a wonderful view of the falls below.
Fred Canyon to Kitchen Creek Road – Just 5 miles roundtrip, this hike is great for families, especially in the more temperate times of year.
Lake Morena North to Cottonwood Bridge – Like climbing? This moderate 8 mile round-trip is for you. You'll traverse rocky terrain with dense chaparral and scrub oak, ascending to more than 1000 feet above your starting point.
Garnet Peak Trail
You'll feel like you can see the whole world from the 6000 foot elevation. This trail features stunning views of the Anza Borrego Desert far below.
Hike the Hills! Enjoy Breath-taking Views!
Autumn is the perfect time to visit The Springs at Borrego RV Resort and Golf Course.