Hiking Trails for Dogs in Julian
As the days grow longer and the temperature climbs in the desert, you may wish for some short hiking trails that your doggie can do without succumbing to the sun's rays. There is such a place! William Heise County Park in nearby Julian offers five trails that are leashed-dog friendly. And they're pretty short too! Always a plus on a hot day. Reserve your stay at The Springs at Borrego RV Resort & Golf Course and bring your furry friend with you.
Your dog wants to go where you go, so check out these hiking trails for dogs, bring a bottle of water, and c'mon.
William Heise County Park
Julian is just 31 miles west of Borrego Springs on CA 78, so hop in the car with your four-footed friend and head to William Heise County Park. It's a 929-acre park that offers forests of oak, pine, & cedar, winter snowfall, spring flowers, and hiking trails for dogs. Mule deer and wild turkeys are often seen throughout the park, as well as the occasional bobcat and mountain lion.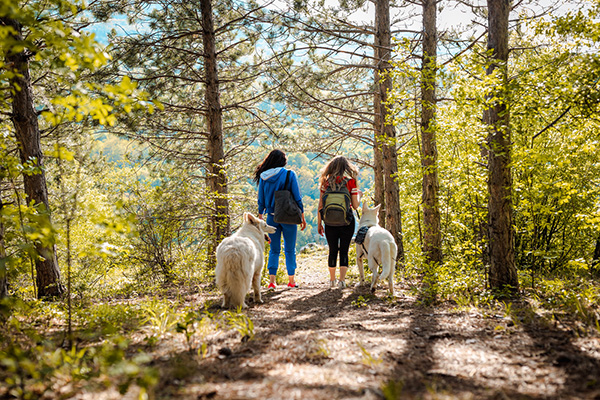 The Trails
Choose any one of these five interpretive hiking trails for dogs to explore with your pooch and then come back tomorrow and choose another one. William Heise County Park is at 4945 Heise Park Road in Julian. The park is open 9:30am – sunset every day. Pets are permitted on trails if they are properly restrained and under the control of the owner. Dogs must be licensed, restrained on a leash no longer than six feet, and attended at all times.
William Heise Desert View & Canyon Oak Loop Trail – This 2.6 mile loop trail is moderately challenging and is popular with birders, bikers, and joggers. Beautiful scenery!
Desert View Loop Trail – A 2.1 mile loop trial that is also moderately challenging. Best time to visit is March – October.
Cedar Loop – Just one mile long and easy! Open year round.
Canyon Oak Loop – This 1.6 mile loop is moderately challenging and takes about 47 minutes to complete.
William Heise Self-Guided Nature Trail – See beautiful scenery and wildlife. You can do this 0.6 mile trail in about 18 minutes!
After the Hike
Is your faithful friend hot and dusty after experiencing hiking trails for dogs in Julian? The Springs at Borrego offers just the thing for your dear friend – three more shaded dog parks, one of which has a stainless steel dog bath area with power sprayer. So bring the whole family, including your cherished pet, for an unforgettable stay at southern California's most unique RV camping experience – The Springs at Borrego RV Resort & Golf Course.
Book Your Stay Now!