Julian is an historic gold-mining town about 30 miles southwest of Borrego Springs via CA 78. In 1870, a single fleck of gold was found in a local creek inspiring the town's only gold rush. By 1900, the treasure seekers realized that the town's true wealth was in its rich farmland. They gave up their quest for gold and turned to farming – specifically apples.
Time Stands Still in Julian
You can still visit the Julian of yesteryear when you take a walk down memory lane…
The Eagle Mining Company – Bring your camera. Experience the life led by miners of old as they panned for gold at The Eagle Mine. You'll see tools, antique machinery, and quartz veins through the rocks in 1000 feet of underground tunnels. No reservations are necessary. The Eagle Mine is open 7 days a week and, because it's underground, it's blissfully cool inside. Panning for gold is eye-opening family fun. Try it – you'll like it!
Visit The Eagle Mining Company at End of C Street in Julian or call (760) 765-0036 for more information.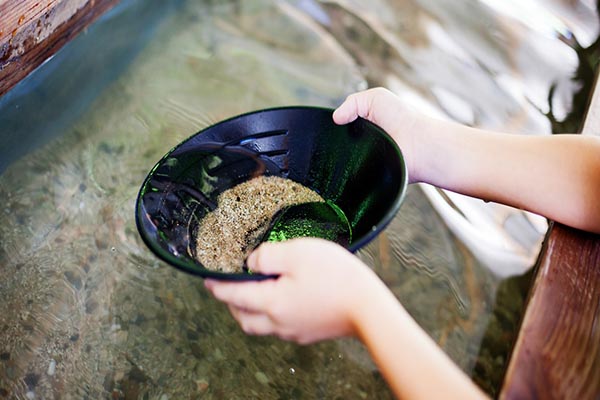 Julian Pioneer Museum – Built as a blacksmith shop in 1890, the building later became a brewery before becoming the Pioneer Museum of today. On display are artifacts from the Native American settlements that once dotted this region, antique guns, weapons, and handmade clothing. Discover how the residents of Julian cooked, traveled, and worked. Life was hard, but they had fun too. See a Victorian piano and old photographs of the townspeople.
Visit the Pioneer Museum at 2811 Washington Street in Julian or call (760) 765-0227 to confirm their hours of operation.
Santa Ysabel School at Witch Creek – Students in grades one through eight were taught by one teacher in this small, charming building from 1880 until 1952. In 1954, the building was closed and students rode the bus into Julian. Used for several years as a library, this historic school house has been restored, moved to Julian's Pioneer Park, and today is the home of the Julian Historical Society at 2133 4th Street.
Dining in Julian
Treat yourself to lunch or dinner after a day of seeing historic sights. Julian's famous apples show up in menus all over town, including…
Apple Alley Bakery
Julian Pie Company
Miner's Diner
And many others!
History is Destiny at The Springs at Borrego
For years, guests have relied on finding 5-star service and luxurious accommodations here. When you book your stay at The Springs at Borrego RV Resort and Golf Course, you'll enjoy modern comforts – heated pool, massage therapy, golf, free WiFi, pet-friendliness, wine tastings in the Pro Shop, and a long list of deluxe five-star amenities. And yet, The Resort is only a short distance from Julian, the place where the valley's modern history began.
Relive the Past – Revel in the Present.