How Christmas Circle in Borrego Springs Got Its Name
There's this small traffic circle that's the center of the town, named after the birth of Salvador Ignacio Linares in Coyote Canyon on Christmas Eve in 1775. The circle functions as the town's focal point and hosts numerous outdoor community events throughout the year.
This quirky and cool downtown, roughly one hour away from the Coachella Valley, in California, boasts a gazebo, picnic tables, a dance floor, and public restrooms. The park is administered by the Christmas Circle Community Park Foundation.

Fun in Borrego Springs
In a word… or three, the town is undeniably cute, quaint, and charming. Christmas Circle area hosts a weekly Farmer's Market, various quirky restaurants, some second-hand stores, a bike rental business, a very cool new art gallery, and is very close to some of the incredible metal sculptures scattered throughout the area.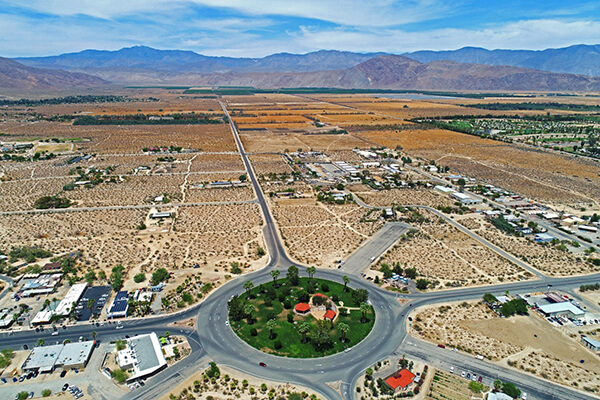 Visit the Borrego Art Institute
Enjoy the current art shows Tuesday – Sunday, from 10 a.m.- 4 p.m. The Art Guild Members Show and the Crafted Works of Art Show feature finely crafted works by talented artists. Spend your holiday touring this art institute and support the local artists by purchasing a beautiful gift from the gift shop for that someone.
Satisfy your Appetite at Kesling's Kitchen
This quick-casual eatery is centered around a Mugnaini wood-fired oven from Healdsburg, California. Chef Tom's Mediterranean themed menu is prepared in house, from scratch, with the finest produce and ingredients possible, all in a casual atmosphere. Delectables include Neapolitan style pizzas, flatbread sandwiches, salads and much more! Kesling's is open daily, from 11 a.m. until 9 p.m.
Get to know your RV Resort in Borrego Springs this season. Enjoy our custom-designed golf course, massage therapy and acupressure, hot mineral baths, and many more world-class amenities at our luxury RV resort in Borrego Springs.
Book your site so that you may experience the best that Borrego Springs has to offer!