Incomparable RV Parks & Resorts Throughout the Western U.S.
At BoaVida RV Parks and Resorts, we're dedicated to providing an unmatched guest experience, both in warm hospitality and engaging properties. We welcome all travelers, whether for leisure or work, and have assembled a suite of first-rate amenities to help make for the perfect stay.
If you love The Springs At Borrego, you'll love our other properties.
Throughout the past few years, we've acquired and upgraded a collection of nine RV parks and resorts throughout the western states. We wanted to introduce them to you.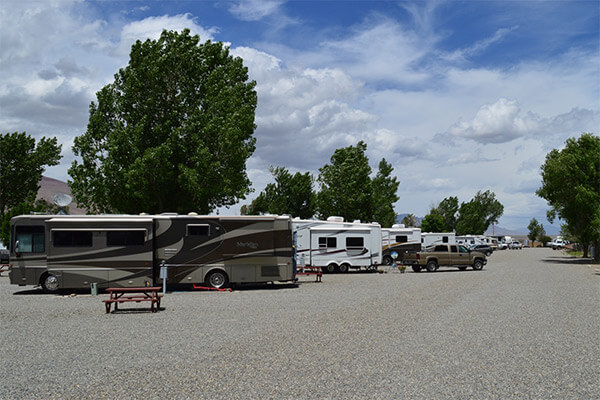 California:
Emerald Forest Cabins & RV, Trinidad, CA
Located in the heart of the California Redwoods and adjacent to the majestic Pacific Ocean, Emerald Forest Cabins & RV is where nature dreams come true. This property offers a variety of desirable camping options – from RV sites to pop-up and tent camping, and well-furnished cabins.
Fort Bragg Leisure Time RV Park, Fort Bragg, CA
Nestled among the pines along California's Mendocino coast, Leisure Time RV Park caters to those looking to get away and explore the beauty of the region. Packed with great amenities, this property offers both RV and tent site camping.
Red Bluff RV Park, Red Bluff, CA
Located between Sacramento and Redding along I-5 and just minutes from the Sacramento River, Red Bluff RV Park is an ideal destination for work or play. Large RV sites, and great views of Lassen Peak and Mount Shasta, help make it perfect for short-term, monthly or long-term stays.
Willits KOA, Willits, CA
Situated 20 miles northwest of Ukiah, Willits KOA features an "Old West" theme and is laid-out on a peaceful country setting with rolling hills and trees. This campground truly has something for everyone, including a swimming pool, fishing pond, petting zoo, mini-golf, arcade, rental bikes, disc golf course, water spray park, hiking trails and more!
Nevada:
Winnemucca RV Park, Winnemucca, NV
Conveniently located just a few hours from Reno and Salt Lake City, Winnemucca RV Park has become known for its stellar RVing and camping accommodations. This property is ideal for families, tourists and on-location workers, and includes high-speed internet and a pool for swimming.
Silver State RV Park, Winnemucca, NV
Located just off I-80, Silver State RV Park is where camping meets the excitement of the Old West! This property includes a general store, pool, high-speed internet and offers a wide variety of unique accommodations including RV and tent camping, a safari tent, tipi, two cabins and a park model.
Oregon:
Portside RV Park, Brookings, OR
Located on the southern Oregon coast, Portside RV Park overlooks the marinas, Pacific Ocean, the beautiful Oregon coastline and ever-changing sunsets. This park is the perfect spot to relax or be active, with well-attended monthly potlucks, birthdays and holiday celebrations that draw tourists and locals from far and wide.
New Mexico:
Hacienda RV Resort, Las Cruces, NM
Only minutes away from downtown Las Cruces, Hacienda RV Resort is the perfect setting for rest and relaxation with stellar accommodations and breathtaking views. Paved roads lead to 113 RV sites with a variety of sizes and layouts, and all have access to our premium amenities.
To learn more about our properties, go to boavidarv.com.
We're thrilled you've chosen BoaVida for your RV travels and hope you'll seek out our family of properties for your future RV adventures.