Julian Hard Cider and Thanksgiving Potluck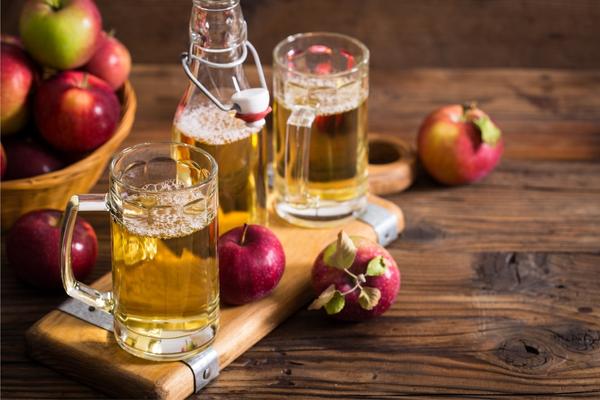 Share and Share Alike
Thursday, November 24 at 3:00pm is the date. We're making plenty of roast turkey, mashed potatoes, and gravy for everybody. You bring a side dish, salad, or dessert and your favorite beverage to share with the other campers at the Thanksgiving Potluck dinner. Can't decide what to bring? Here's an idea…
Julian Hard Cider
Just about 30 miles west of your camp site lies the apple-obsessed city of Julian, where you can pick your own apples, buy every sort of apple dessert, and now, you can taste 12 kinds of apple cider at Julian Hard Cider. It's the perfect accompaniment for the delicious Thanksgiving feast.
Just as beer and wine are made by the fermentation of grain and grapes, so hard cider is made by the fermentation of apples. Julian Hard Cider produces 12 different ciders – some blended with other fruits – at their location at 4470 Julian Road. They are open every day but Tuesday and offer tastings at the former apple-packing station they call home. Bring the family and your doggie! There's plenty of seating, food trucks, and tastes of hard apple cider to go around.
Need more info? Call Julian Hard Cider at (760) 703-7307.
Traditional Dining
Ever since the Pilgrims came to this continent, Thanksgiving has been America's traditional harvest holiday. Because imported beer was expensive back in the 17th century, the early Colonists brewed their own cider. In fact, many of them consumed hard cider with every meal. You'll find Julian Hard Cider to be just 'hard' enough, at 5% – 6.99% alcohol, to pair perfectly with all the traditional vegetable dishes and casseroles at the Thanksgiving Potluck dinner.
Start Your Own Thanksgiving Tradition
With great gratitude, we thank our guests for choosing the 5-star service and luxurious accommodations available here. When you book your stay at The Springs at Borrego RV Resort and Golf Course, you'll enjoy modern comforts – heated pool, massage therapy, golf, free WiFi, pet-friendliness, wine tastings in the Pro Shop, a Thanksgiving Potluck feast, and a long list of deluxe five-star amenities.
Make a November Getaway to The Springs at Borrego RV Resort Your New Tradition!