Make Ratatouille with Herbs from Julian Farmer's Market
Whether preparing a meal indoors in your RV kitchen or outdoors over the grill or campfire, cooking without herbs would be nutritious, but dull.
Wynola Flats Produce in nearby Julian makes sure your every meal is exciting with fresh fruits, vegetables, and herbs. Current herb offerings include fresh oregano, fresh rosemary, and fresh thyme. Chefs know this combination as Herbs de Provence.
So make a quick trip to Julian – it's only 31 miles from the Springs at Borrego RV Resort on CA Hwy 78 – to Wynola Flats Produce and pick up everything you need for an easy, delicious French dinner made with locally-grown, fresh herbs and veggies. And pick up a couple of bottles of wine in Julian too.
How to Make Ratatouille
Buy: tomatoes, onions, garlic, eggplant, zucchini, oregano, rosemary, thyme, honey, and olive oil. The honey and olive oil are locally-produced too.
Make your base tomato sauce by chopping up several tomatoes – no need to skin them. Peel and slice one onion. Peel and chop at least two cloves of garlic – if you love garlic, use more.
Sauté all of the above in olive oil, adding as much as you like of your Herbs de Provence (oregano, rosemary, thyme). If the tomatoes seem too acidic, a teeny bit of honey will even things out. Salt and pepper to taste. Let simmer until all the veggies seem cooked – about 10 – 15 minutes.
While the tomato sauce is cooking, thinly slice three zucchinis, an eggplant, and another couple of tomatoes.
The sauce is ready when your kitchen smells heavenly. If you prefer a not-so-chunky sauce, run it through a food processor.
Spread the tomato mixture into the bottom of a large casserole dish. Working from the outer edge, layer the vegetables on top of the sauce in a pattern (ex: eggplant, tomato, zucchini, repeat). You may or may not use all of the veggies, depending on the size of your pan.
Brush the veggies with olive oil and bake for about an hour until everything is tender. Like cheese? Sprinkle on grated Parmesan during the last five minutes of cooking.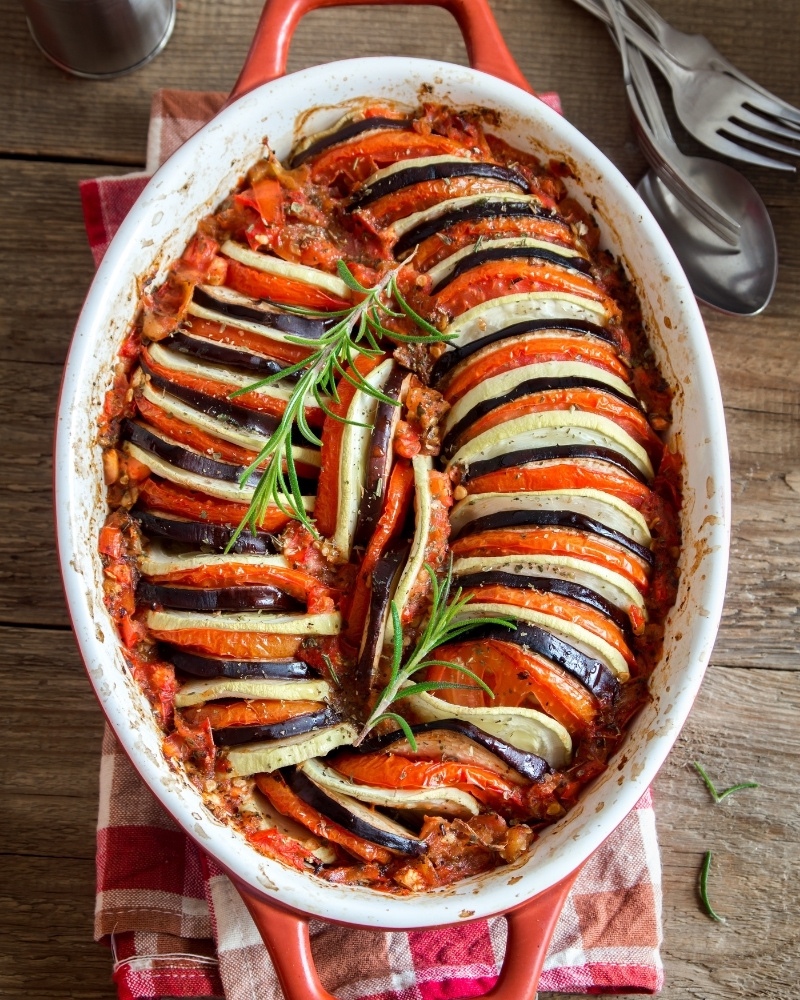 Open a bottle of wine, delight in every good thing life has to offer, and enjoy the aroma of your wonderful dinner as you admire the stars in the inky black sky overhead. Life is good at the Springs at Borrego RV Resort and Golf Course.