Metal Sculptures in Borrego Springs
There's so much more to the beautiful Anza-Borrego Desert State Park than desert wildflowers and cacti. People from all over the country, and the World, are journeying to marvel at the more than 130 full-sized metal sculptures in Borrego Springs. The metal sculptures depict movement inspired by creatures that once roamed the same desert millions of years ago.
The artworks range from historical characters to prehistoric mammals, elaborate dinosaurs, and a 350-foot long serpent. As you meander through the roads and trails you'll see sculptures of wild horses in a nearby field, desert tortoises appearing to crawl through the brush, and prowling sabertooth tigers.
The sculpture artist, Ricardo Braceda, gives life to his Galleta Meadows Sculpture garden by capturing the creatures in motion. These immobile objects appear ready to spring into action at a moment's notice.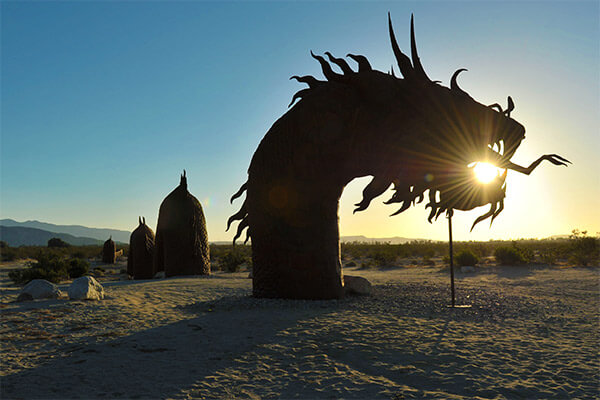 Ricardo Braceda's Passion
It all started with a Christmas request from Ricardo's six-year old daughter, Lianna. After watching the movie Jurassic Park III she asked her father if he would make her a dinosaur. He complied, completing the sculpture, a 20-foot tall Tyrannosaurus Rex, just a few weeks later and a new passion was born.
Originally from Durango, Mexico, Ricardo moved to California after a construction accident caused him to leave his job. He followed that, briefly, with a stint as a cowboy boot salesman before delving into his passion professionally.
Dennis Avery's Vision
The late Dennis Avery, land owner of the Galleta Meadows Estates in Borrego Springs envisioned the idea of adding free standing art to his property with the original steel-welded sculptures created by commissioned artist, Ricardo Braceda.
Avery commissioned Braceda to sculpt all of the beasts found in a book that Avery funded, which depicts now-fossilized creatures as well as mythological ones. These magnificent sculptures are scattered throughout the desert and are free to the viewing public.
---
About The Springs at Borrego: RV Resort and Golf Course
The Springs at Borrego RV Resort, with its 9-hole championship golf course, provides spacious RV sites, fully-furnished park models, top-notch amenities and recreational activities. You'll enjoy 300 days of sunshine a year in this scenic mountain desert community along with Ricardo Braceda's fantastic Metal Sculptures in Borrego Springs! Book your stay, today!