Pickleball is Fun, Social and Welcoming!
Pickleball was invented in 1965 on Bainbridge Island, a short ferry ride from Seattle, Washington. Three dads – Joel Pritchard, Bill Bell, and Barney McCallum — whose kids were bored with their usual summertime activities — are credited with creating the game which has captured the attention of people world-wide and is now enjoyed by folks of all ages everywhere.
Although a couple of explanations exist for the name of the game, according to Barney McCallum, the game was officially named after the Pritchards' dog Pickles, who would chase the ball and run off with it.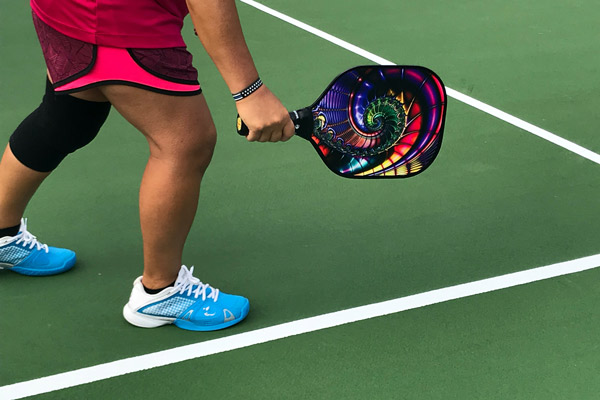 Play Pickleball at The Springs at Borrego
Pickleball is a fun sport that combines elements of badminton, tennis, and ping-pong. Pickleball can be played indoors or outdoors on a badminton-sized court with a slightly modified tennis net. At the Resort, our Pickleball courts are outdoors.
The game can be played as singles or doubles, and is enjoyable for adults and children. All you need is a sturdy paddle and a plastic ball with holes.
Never played before? Learn the rules or download the PDF here. It's easy!
We have our own league of serious Pickleball players right here at the Springs at Borrego. Join in! According to USA Pickleball, teams can be as few as two men and two women or as many as four men and four women to complete the required matches. Click to learn more about official court and match format.
What to wear when playing Pickleball?
Just about anything you want to, really. Comfortable court shoes are a must; sneakers or running shoes might not supply the right kind of support for the side-to-side action inherent in Pickleball. Eye protection is highly recommended.
Even if you're not a Pickleball person, we offer plenty of other outdoor activities and amenities…
Nine-hole professionally designed golf course
Outdoor salt-water pool and spa
Tennis courts
Volleyball, horseshoes, and lawn bowling
Lakes and fishing ponds
Lots of other great stuff too, including three grassy dog parks, so your doggie can join in the fun.
Reserve now or request your site at The Springs at Borrego RV Resort and Golf Course.