Pupfish in the Anza-Borrego Desert
Can you believe it? Frisky little fish live in the desert! Related to the minnow, pupfish live in the most extreme desert environments, enduring cold and heat that would send human beings back to the comforts of their RVs.
Pupfish are tiny. The really 'big' ones might get to be two inches long. Some are blue, some are yellow, depending on what isolated pool they have evolved in.
So how did they get into an assortment of remote and isolated pools in the Anza-Borrego Desert? Pupfish-ologists believe these fish once populated Ice Age lakes that covered the Southwest and dried up eons ago. As the waters receded, the fish continued to live in whatever little pools they found themselves in, separated from the rest of the finny population and evolving separately.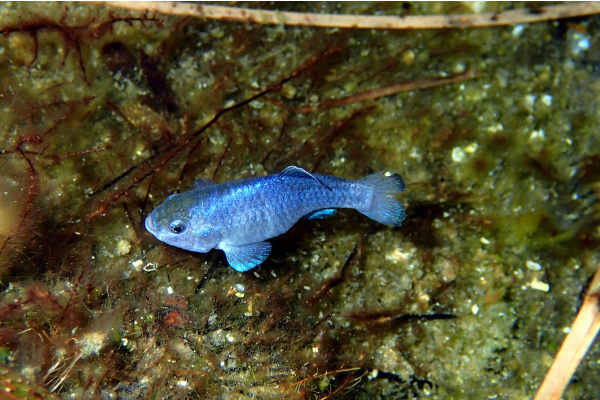 A Fish Named Pup
Late summer through the fall is mating season in pupfish-land. Carl Hubbs, an ichthyologist who first took an interest in this tiny fish, noticed their playful, frisky, puppy-like behaviors during mating season, so he named this species Pupfish.
See Pupfish at Anza-Borrego State Park
Go to the Visitor Center at Anza-Borrego State Park and admire the Desert Garden. Included in this lovely spot is a pupfish pond. These amazing creatures thrive in fresh water or water nearly as salty as the ocean. They can survive temperatures from near freezing to 108 degrees Fahrenheit. And if their water gets too warm or too cold, they just burrow in the mud at the bottom of the pool and wait.
Take your camera and show your friends back home and on Facebook that you found fish in the desert!
Swim Like a Pupfish
You won't need to burrow in our salt-water swimming pools and hot tubs. Just relax and enjoy yourself. Here at the Springs at Borrego RV Resort and Golf Course, the water stays at the perfect temperature so you can play like a pupfish year-round.
Decide for Yourself – Do Mating Pupfish Really Play Like Puppies?
Request your stay at The Springs at Borrego RV Resort and Golf Course during pupfish mating season and find out.