RV Vacation with Dogs at the Springs at Borrego
Here you are relaxing at the beautiful Springs at Borrego RV Resort and Golf Course with your family and all your dog wants to know is…'When ya takin' me somewhere, Human? I'm family too!'
January is a beautiful time of year to be outdoors, with clear, sunny skies and temperatures around 70ᵒ, so c'mon Human. Load the doggie in the car and go to some great dog-friendly spots in nearby Julian that the entire family can enjoy.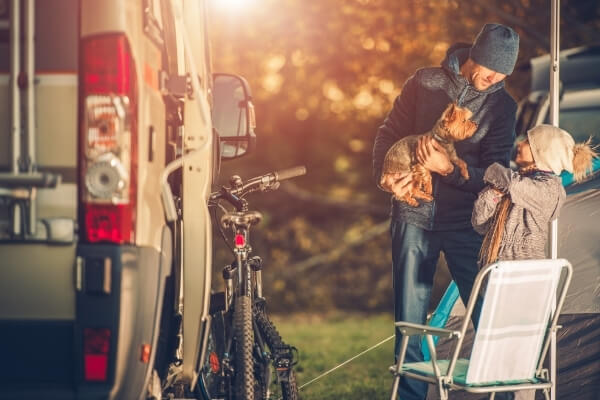 Jess Martin County Park
Leashed dogs can explore Jess Martin Park's nine acres alongside their owners, and romp off-leash in the fenced T-ball field. Fido is only allowed on the field from the beginning of August to the beginning of February when games are not in progress, so January is the perfect time to go. Jess Martin Park is open daily from sunrise to sunset. Visit this dog-friendly park at 2955 Highway 79 in Julian, CA 92036
Blue Door Winery
Blue Door Winery is in the middle of town, converting an old livery stable into a charming tasting room. With big barn doors, exposed high ceilings, wood floors, and of course plenty of great wine, dogs are welcome to join their owners inside for a relaxing glass. Blue Door Winery is open every day of the week from 12:00pm – 5:00pm. Visit the Blue Door at 2608 B Street in Julian, CA 92036.
Julian Imports
Julian Imports is pet-friendly. Located at 2106 Main Street in the picturesque gold mining town of Julian, this historic store has been in operation since 1994 offering unique and affordable jewelry, clothing, home décor, and gifts from around the world. Leashed dogs are welcome inside the store. Julian Imports is open Monday through Friday from 11:00am – 4:00pm and Saturday to Sunday from 10:00am – 5:00pm.
The Cooler
The Cooler is a popular neighborhood craft beer tap-room that welcomes leashed dogs on the pet-friendly patio outside. They offer 10 local beers on tap and over 60 different varieties in their beer cooler. Food is available from the nearby taco store. The Cooler is open Thursday through Monday at 4466 CA-78 in Julian in CA 92036.
Is your doggie tuckered out from his big adventure or does he want more?
C'mon back to the Springs at Borrego RV Resort and Golf Course where we offer three grassy dog parks, two of which have areas for small and large dogs, toys for the doggies, chairs for the people, and a stainless-steel dog bath in the third park. Just right for running around, barking, and sniffing other dogs.
Bring the entire family – including your doggie!
The Springs at Borrego RV Resort is a vacation destination for the whole family. Reserve Now!