Valentine's Day is on the way! What could be better than spending a Valentine's weekend getaway with your sweetie in a 5-Star Resort? Not just any old resort… The Springs at Borrego RV Resort and Golf Course…the most fabulous RV Resort anywhere.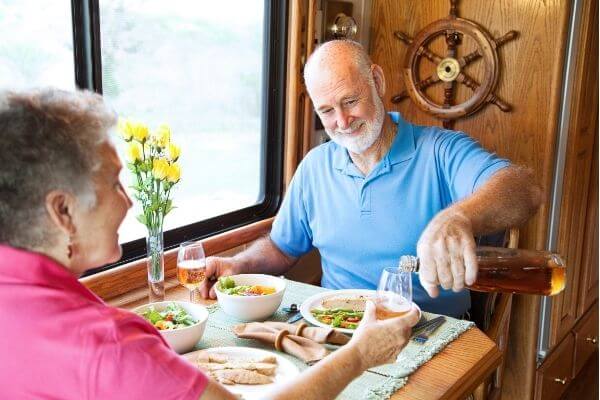 Valentine Wine in Borrego Springs
It wouldn't be a special occasion without a bottle of wine. Make a quick trip to…
Village Liquor at 659 Palm Canyon Drive in Borrego Springs for a bottle of champagne or other wine. "The wine section is the most comprehensive in Borrego," says Denise D on Google Reviews. They have jumper cables, light bulbs for your rear tail light, munchies, snacks, and the lowest ATM fee ever seen… only $1.50!
Calico's at 587 Palm Canyon Drive in the Mall. Or just stay put and call. Calico's delivers pizza and wine! Lori B says, "They deliver to the amazing RV park we're staying at (editor's note: that's us)-comes a spectacular pizza and wine. Lovely phone service – what a treat!"
Look Around Outside
The Springs at Borrego RV Resort and Golf Course is surrounded by the Anza-Borrego Desert and the Santa Rosa Mountains. Hike through the rugged mountains to view cacti, palm trees, and wildlife in the desert below. The vast night sky is aglow with millions of stars, and you can see them clearly because there is no light pollution – we are under the only Internationally Recognized Dark Sky in California.
Enjoy Park Activities
So many things to do. Some are just perfect for an active lifestyle like yours…
Play tennis – we have two separate courts
Volleyball, horseshoes, and lawn bowling
Catch 'n release lakes and fishing ponds
Run around with your doggie and give him a bath – three big dog parks mean triple the fun
Make an appointment for a massage – you deserve it
Valentine's Day comes just once a year, but love blooms in the desert year-round. Refresh yourself! Come see us for the getaway you so richly deserve.
Valentine's Day is really popular. Don't Wait! Reserve Now