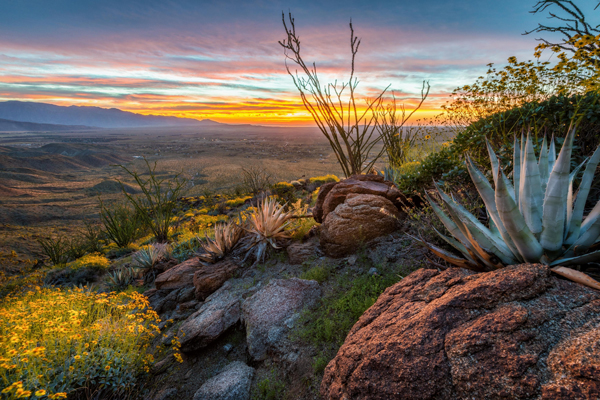 Santa Rosa Herself
Who was this woman for whom the Santa Rosa Mountains are named? Born in April of 1586 to a noble family in Lima, Peru, the beautiful Rosa was the first person in the Western Hemisphere to be canonized by the Roman Catholic Church. During her short lifetime (she died in 1617) she resisted all suitors, preferring to live a life of religious contemplation in a hut in the family garden.
In her small garden world, Rosa tended flowers, and made lace and embroidery which she sold to help the poor living in the hellholes of Lima. There are stories that Rosa cured lepers and that upon her death, roses fell from the sky and that the whole city of Lima was fragrant with the scent of roses. Santa Rosa is the patron saint of Peru and all of South America as well as of embroiderers, gardeners, and florists.
Many places in the New World are named for her, including the Santa Rosa Mountains.
Hike Hellhole Canyon
Will Santa Rosa intercede this year in your quest to find an abundance of flowers? Probably not. The gods of snowmelt and rain have not yet delivered enough moisture to make that happen. What you will find, though, are the hardy few flowers poking their heads up through the crusty earth anyway in places like Hellhole Canyon.
Ironically named, Hellhole Canyon belies its foreboding title with palm trees, a seasonal waterfall, and lush gardens of wildflowers…when the occasional rains come. With the Santa Rosa Mountains looming in the distance, the falls and the palm trees can be seen by hiking 2.5 miles starting along S22 just south of the Anza-Borrego Desert State Park Visitor Center.
April is the ideal time to hike Hellhole Canyon in the shadow of the Santa Rosa Mountains and visit The Springs at Borrego RV Resort and Golf Course.