Popular music tells us there's a Stairway to Heaven and a Highway to Hell, but did you know there's an Expressway to Shell Reef? That's right, there's a real-world thoroughfare to a four-million year old embankment of fossil oyster shells and marine animals and it's right here in the Anza-Borrego Desert.
The 8.7-mile point-to-point OHV trail known as the Shell Reef Expressway is generally considered an easy route, but it's really a humorously-named bumpy dirt road from Ocotillo Wells to the Carrizo Badlands and Shell Reef. The best times to visit this trail are November through March. You'll need to leave pups at home – dogs aren't allowed on this trail.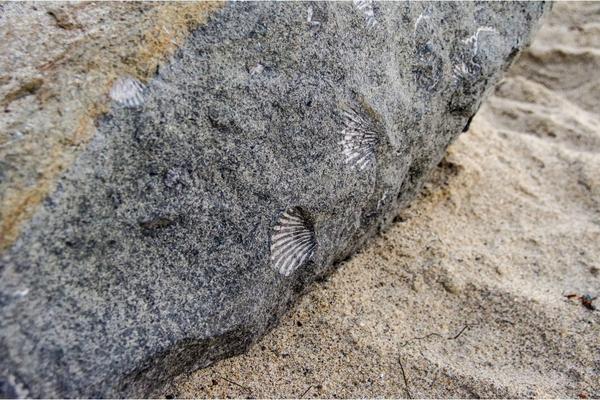 Expressway to Shell Reef is Made for OHV Riders
Hop on your ATV and roar down the expressway straight into the ancient past, when salty sea water covered everything, including your RV campsite at The Springs at Borrego. Shell Reef is part of an active off-road vehicle area in Anza Borrego State Park. A small fence protects the reef, but you can still enter the area and examine the fossilized oyster shells.
When you take your 4WD vehicle, mountain bike, or ATV to the low-lying, desolate Carrizo Badlands, you'll discover a shell reef so dense with all kinds of fossils* that the fossils out-weigh the sandy soil in which they are embedded.
*Fossil Fun Fact! You'll most likely find fossils that look like tightly-curled rams' horns. They are called ammonites. Early explorers thought they were fossils of small snakes, but they are not. Ammonites are the ancestors of spiral sea shells, like the nautilus.
Explore More Outside Your RV Door
Reserve your stay at The Springs at Borrego RV Resort & Golf Course to explore the endlessly fascinating Anza-Borrego Desert. Play golf, swim in the pool, and bring your camera to take pictures of all the amazing fossils you'll find in the desert. The fossils themselves must remain in place to thrill the next explorers on the Expressway to Shell Reef.