Staying Cool from Dawn to Dusk At The Springs at Borrego
"On a dark desert highway, cool wind in my hair…" The Eagles know it's cool in the desert at night, but the daytime? You need a plan to beat the heat and keep your cool.
If you love outdoor sports like golf, volleyball or tennis, try to hit the links or the courts before 10:00am when Old Sol really kicks in.
Later on, submerge yourself in our 24-hour sparkling cool outdoor saltwater pool or refresh yourself with air-conditioned services and activities like…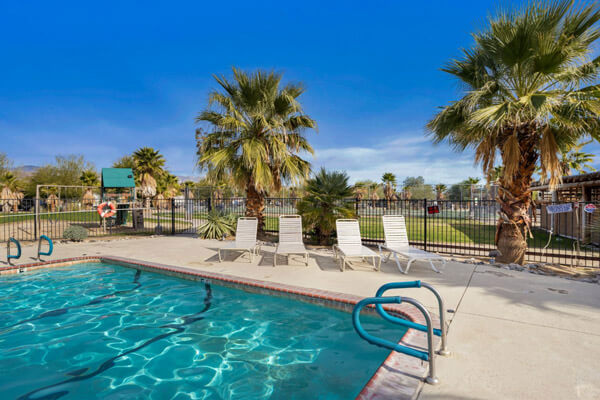 Play the piano, ping-pong, cards and board games in our air-conditioned clubhouse
Grab a book or magazine from the library and enjoy it in air-conditioned comfort
Play games or shop online at the computer center – it's air-conditioned
Hop into your air-conditioned car and go to air-conditioned Desert Pantry Market for fresh local produce and make a big cool salad for dinner. Don't want to drive? They deliver too!
Now that it's just about sunset, the time is right to relax with a refreshingly cool cocktail and enjoy stargazing under the cool inky-black skies.
Margarita
2 oz. silver tequila
1 oz. Cointreau
1 oz. lime juice
coarse salt
Chill a cocktail glass, and then rub its rim with lime juice and dip it in coarse salt. Add tequila, Cointreau, lime juice, and ice together in a cocktail shaker. Shake and then strain into the glass over ice.
Negroni
1 oz. London dry gin
1 oz. Campari
1 oz. vermouth rosso
Add the ingredients together in a cocktail shaker. Stir well with cracked ice. Strain into a glass over cubed ice. Garnish with a twist of orange peel.
Piña Colada
2 1/2 oz. rum
3 oz. pineapple juice
1 oz. coconut cream
ice
Start with the rum. Then combine with unsweetened pineapple juice (you can sub in 3 ounces crushed or whole pineapple), and coconut cream in a blender. Blend on high with a cup or so of crushed ice, or 5 or 6 ice cubes. Pour into a tall glass. Garnish with whatever you've got.
Virgin Piña Colada
Same as above, without the rum. Just right for the mock-tail drinkers!
You'll stay cool as a cucumber from dawn 'til dusk at The Springs at Borrego RV Resort & Golf Course. Request your stay today!