The Perseids Meteor Shower – Fire in the Sky
Now through August 24, the Perseids Meteor Shower will be lighting up the night sky with as many as 60 bright shooting stars per hour on the peak nights of August 12-13. Meteors radiate from the Constellation Perseus, which was first recorded in AD 36 and named for a warrior-hero of ancient Greece.
Fire in the Sky
People have been gazing at the heavens for centuries, giving names to the constellations, speculating about the relationship between heaven and earth, and writing poems and songs about celestial events. John Denver's song 'Rocky Mountain High' is about the Perseids Meteor Shower. His lyric, "I've seen it raining fire in the sky," is what you will see when you visit the Astronomy Park at The Springs at Borrego RV Resort to watch the shooting stars this August.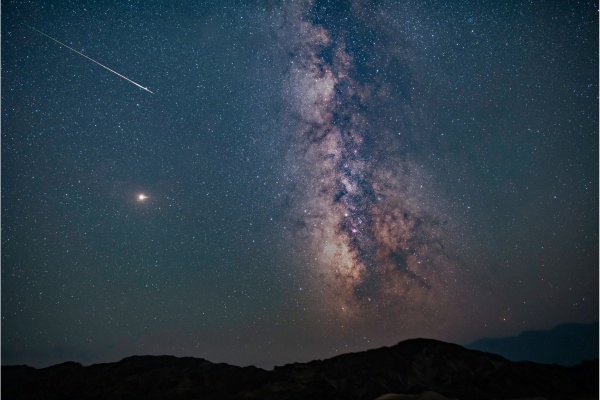 Cool in the Desert at Night
Dark skies and night time temperatures in the low 80s make perfect stargazing weather. Chill a bottle of wine and relax in the stillness of the Anza Borrego Desert to see a sight you won't be able to see in brightly lit cities – bits of fire raining from the sky during the annual Perseids Meteor Shower. You won't even need a telescope.
Enjoy Low Summer Rates
Reserve your stay at Southern California's most unique camping experience to swim in the salt water pool, refresh yourself in the mineral spas, play golf on our custom-designed course, run around with your furry friend in three grassy dog parks, and enjoy all the premier amenities while surrounded by rugged desert beauty. Your enjoyment of the Perseids Meteor Shower this August will be even greater when you take advantage of our low summer rates.
Summer is made for stargazing at The Springs at Borrego RV Resort & Golf Course.