The Perseids Meteor Shower of 2021
Good news for devoted sky watchers! The Star Parties are back… just in time for the peak display of the Perseids Meteor Shower just before midnight on August 11. And it will be the brightest for years!
Perseids Meteor Shower
Called 'Perseids' because the shooting stars appear to be coming from the area of the sky occupied by the constellation Perseus, meteoroids are actually bits of dust left in Earth's orbital path around the Sun by the giant comet 109P/Swift-Tuttle. These bits of star dust strike earth's atmosphere and burn up. We call this released energy 'streaks of light'.
The celestial display will be particularly impressive this year because the Moon will set long before the shower peaks. Combined with the inky blackness of the only International Dark Sky in California, conditions will be perfect to experience as many as 50 falling stars per hour on the evening of Wednesday/Thursday, August 11 – 12. You may even be treated to a 'fireball' – a meteor with a bright, persistent tail.
Although the peak display will be August 11 – 12, the Perseids Meteor Shower will continue through August 26. Come see the shooting stars now…the Perseids won't be back until 2025.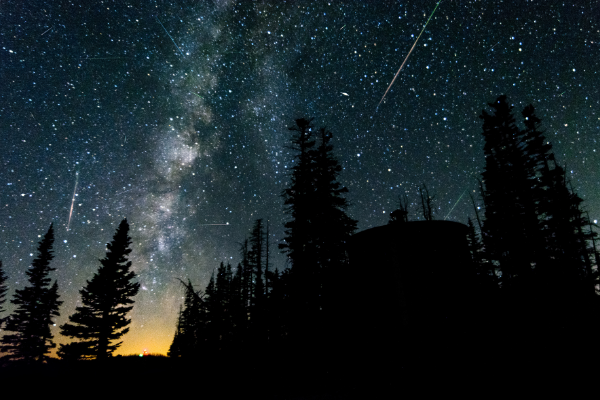 How to Watch the Meteor Shower
Luckily for you, the only 'equipment' you need is something comfortable to sit on. Just traipse out into the magnificent desert scenery late in the evening and sit down. Bring some snacks and settle in for a couple of hours. Let your eyes adjust to the darkness and try to take in as much of the sky as you can. You will be rewarded with a sight you'll remember forever.
If you have not yet visited the Springs at Borrego RV Resort during one of these incredible heavenly events, you owe it to yourself to witness the majesty of the universe from your perch amid the ancient rocks.
Come for the breathtaking scenery, the deluxe accommodations, the only International Dark Sky in California, and The Perseids Meteor Shower.
Don't Delay!