Visit the Pumpkin Patch in the Anza Borrego Desert
Well, here it is October already and Spooky Season is in full swing. Big orange decorative pumpkins and Jack-o-Lanterns are everywhere…perched on porches, peeking out of windows, even on greeting cards. But did you know that you can find a pumpkin patch in the Anza Borrego Desert?

Pumpkins Grow in the Desert
Sure, you can pick up a pumpkin at the nearby Center Market to decorate for Halloween, make a pumpkin pie for Thanksgiving, or get yourself in the mood for pumpkin-spice everything else. Or, you can head out to Ocotillo Wells where pumpkins grow in the desert.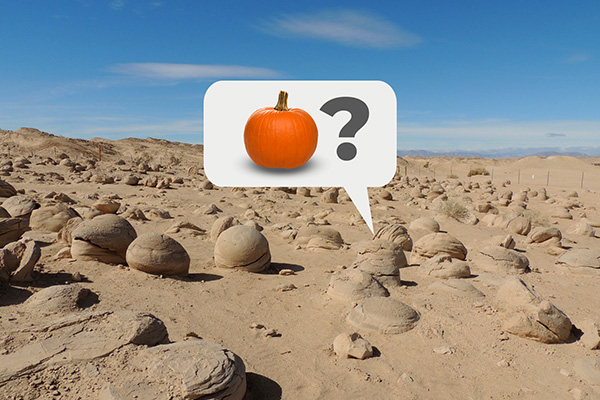 How to Find the Pumpkin Patch
The pumpkin patch in the Anza Borrego Desert is located in the Ocotillo Wells State Vehicle Recreation Area, just east of the State Park boundary. Take Shell Reef Expressway (a humorously named bumpy dirt road) to East Bank Wash, and then on to Pumpkin Patch Trail. You'll need a 4WD vehicle for this li'l excursion. Once you get there, you'll find a field full of big, round, pumpkin-shaped rocks that have been formed by wind and water.
Whoa! How Did That Happen?
Just as oysters make pearls out of minor irritants, so Nature creates a 'pumpkin' from a nucleus of a leaf, a shell, or a fossil. These unique stone pumpkins are actually concretions; the nucleus is covered by layer after layer of wind- or water-borne mud until it eventually becomes a giant round rock. The best time to visit the pumpkin patch in the Anza Borrego Desert is real-life pumpkin season…October through May when the weather is cool and nice.
Let these Halloween Pumpkins In!
Your natural curiosity about stone pumpkins can work for you this Halloween while you and the crew are camping in one the deluxe RV sites at The Springs at Borrego RV Resort & Golf Course. So, book your stay, load up on popcorn and candy bars, and settle back to watch 'It's the Great Pumpkin, Charlie Brown,' a cherished 1966 classic that follows the Peanuts gang as they celebrate Halloween, awaiting the mystical Great Pumpkin. With its light-hearted humor and timeless characters, it's the perfect movie to watch after looking for the pumpkin patch in the Anza Borrego Desert.
Reserve Your Stay Today