Visiting the Wind Caves in the Anza Borrego Desert
Wind and water, water and wind. For millions of years these two forces of nature have carved the landscapes of the Anza Borrego Desert, including the Wind Caves. Reserve your stay at The Springs at Borrego RV Resort to treat yourself to a hike through the Domelands, where you'll find fossils, mud hills, an incredible view of the desert floor, and the caves themselves, gouged out by millions of years of howling winds.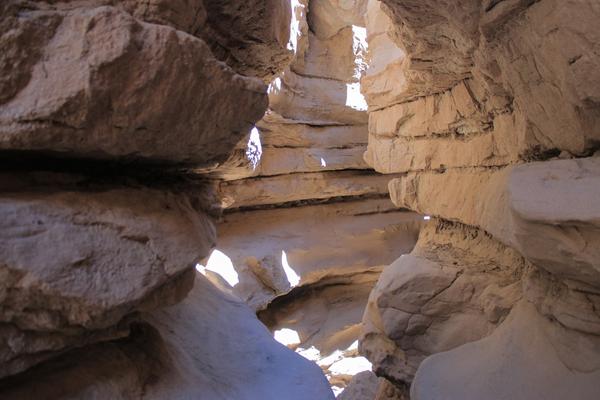 Getting There
Though the trail itself is short, getting to the trailhead can be arduous. Go when the weather turns cooler and take a 4WD vehicle for the 30 mile trip to the Wind Caves. From Christmas Circle, follow Borrego Springs Road to Route 78. Turn left on Split Mountain Road and continue to Fish Creek Wash. The canyon will become narrower and the stone walls steeper as you approach the Wind Caves Trailhead sign. Park the car – it's time to hike!
The Domelands and Wind Caves
You will know you're getting close when you see a cluster of unusual dome-shaped rock formations, looking nothing like anything else nearby. These rounded sandstone domes are full of wind-eroded holes, big enough for a person to crawl through or stand up in. From your perch within the Wind Caves, you can look out and see the vast Anza Borrego Desert below. Pack your lunch and have a picnic in the shelter of a cave.
Take Pictures, Not Fossils
Millions of years ago, the Domelands and Wind Caves area was covered by the Salton Sea. You are likely to encounter all sorts of fossils of marine life as you travel along the trail. Do not take fossils as souvenirs – they must stay in the desert. Bring your cellphone and take only pictures to commemorate your visit to the pre-historic past.
Stay in the Desert in Comfort
Just like the desert landscape, salt water can shape your existence. Refresh yourself in the salt-water swimming pool and spa, open 24 hours day. Water is everywhere – the fishing lake, the water traps on the golf course, even the dog bath station in the dog parks. Enjoy your stay at The Springs at Borrego RV Resort & Golf Course. Our amenities make the distinctive difference.
Water is Life…and History!