Waterfalls in the Anza Borrego Desert
Seems contradictory, doesn't it – waterfalls in the Anza Borrego desert. But when you stop to think about it, the desert was once an ocean and its incredible scenery was carved by wind and water over millions of years, so of course, there's waterfalls. Several of them! Take yourself on an adventure from your home base here at the Springs of Borrego RV Resort and bring your camera with you.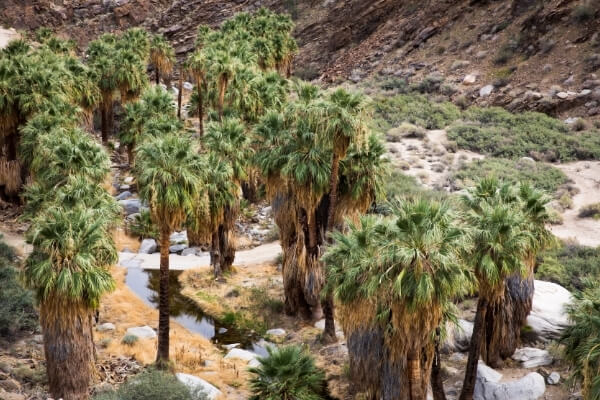 Indian Canyons in Palm Springs
A true oasis with streams and waterfalls, scenic Indian Canyons is ideal for hiking and exploring the beautiful desert scenery. This 15 mile long canyon is lined with large palm trees that add a little bit of color to the muted shades of the desert. The 'Andreas Trail' is short and easy enough for small children. Other trails are more challenging. Take at least 30 ounces of water per person. Sorry, no pets. Indian Canyons is in Palm Springs at 38500 S Palm Canyon Drive.
Hellhole Canyon in Borrego Springs
Don't be scared by the name! This moderately challenging 6-mile hike will lead you to Maidenhair Falls, a seasonal 20-foot waterfall that makes a refreshing hiking destination on a hot day in the California desert. You'll see wild lavender bushes, ocotillo everywhere, and creosote – yes, they smell like your fireplace, hence the 'Hellhole' name. Early spring, or any time rains bring water to Hellhole Canyon, is the right time to hike to Maidenhair Falls. This hike takes about 3 hours for teenagers and adults, there are a few places where rock scrambling is required, and you can splash in the water at the base of the falls once you get there. Take plenty of water. Dogs are not permitted. FREE!
To get to the trailhead: From Christmas Circle in Borrego Springs, drive 1.3 miles west on Palm Canyon Road. Turn left on Montezuma Valley Road (Route S22), which is 0.4 miles before the park visitor center. Drive 0.8 miles south and turn right into the large dirt parking area at the trailhead (just before the road heads up the mountain). There is a bathroom at the far end of the lot away from the start of the trail.
Trailhead address: Montezuma Valley Road (Route S22), Anza-Borrego Desert State Park, Borrego Springs, CA 92004
Three Sisters Falls in Pine Valley
This is a hike with a grand prize for the experienced hiker. Getting to the three sets of falls is the easy part – it's all downhill. Once you get there, the waterfalls are spectacular – HUGE, beautiful, and you can swim in the water! Enjoy your trail snacks at the base of the falls. You might see poppies and wild mustard blooming in the springtime, while peregrine and prairie falcons prepare their nests for their new chicks.
Wear your hiking boots because going back up the trail is the hard part. Just remember, this is a difficult trail and is not suitable for children or pets, as ground temperatures can exceed 120ᵒ. Take at least a gallon of water per person. This is the ideal time of year to go to Three Sisters Falls because the weather is mild and there's more water flowing.
The trailhead of Three Sisters Falls is at Boulder Creek Road, Pine Valley, CA 91916. Call (858) 673-6180 for directions.
The desert was once an ocean. You can explore it for yourself when you reserve your stay at California's most unique RV camping destination – The Springs at Borrego RV Resort and Golf Course. Book Now!