Ways to Exercise in Borrego Springs
When you want to exercise and see the sights, but it's too darn hot for hiking or golf…the heck with the heat! There's lots ways to exercise in Borrego Springs every day of the year in comfort.
Exercise in Borrego Springs at the Senior Center
C'mon in to the Borrego Springs Senior Center at 580 Circle J Drive – it's cool inside! Air-conditioning makes your workouts enjoyable and safe.
Alternating Tuesdays – Gentle Hatha Yoga at 10:00am
Every Wednesday – Low impact exercise at 10:30am, led by Kathy Johnson, Physical Therapist
Every Friday – Korean Tai Chi at 10:00am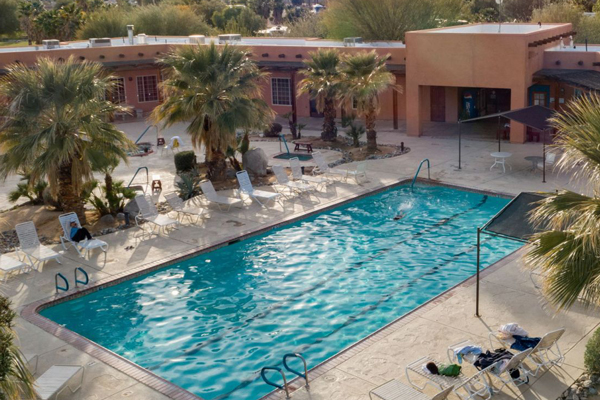 Yoga at La Casa del Zorro
Yoga classes are held on the outdoor covered shuffleboard court. In case of bad weather, classes are indoors in the yoga studio. Settle your mind and build strength with Yogi Paul Penner, every Wednesday, Saturday, and Sunday at 9:00am. Open to everyone. Please bring your own mat to Casa del Zorro at 3845 Yaqui Pass Road in Borrego Springs.
Exercise Right Here at the Fitness Center
Stationary bikes, treadmills, weights, and more will give your whole body a workout here in our spacious Fitness Center. Air-conditioning and a carpeted floor make your exercise routine comfortable.
Swim!
Swimming might be the best all-around exercise on Earth. Just take a look at those Olympic swimmers! You can exercise in Borrego Springs whenever you want to because our outdoor pool is open 24 hours a day, every day of the week. Swim early or swim late in refreshingly cool water to avoid the direct rays of the sun.
Walk Your Dog
You might not want to walk your doggie, but he wants to run around anyway. One of our 3 grassy dog parks has a dog bath station with a power sprayer. Squirt your furry friend if he gets too hot. Squirt yourself too, if you feel like it!
Save Big in the Summertime
This requires no strenuous exercise whatsoever. All the deluxe amenities and spectacular desert scenery are yours when you reserve your stay at The Springs at Borrego RV Resort and Golf Course. Or store your RV here until cooler weather returns. Low Summer rates mean big savings for you!