When Camels Roamed the Desert
Millions of years ago, the North American camel, known as camelops, roamed the Anza Borrego Desert. In fact, the fossil bones of ancient camels have been found in the Badlands of Camel's Head Wash, a popular hiking trail only 33 miles south of here on Borrego Springs Road.
Fast forward thousands of years to America's Civil War. In the mid-1800s, mules were the preferred beast of burden for transporting supplies across deserts and rough terrain, but the Army had the idea that camels would be ideal for dry, hot conditions and could be useful replacements for other pack animals.
So they bought camels! Purchased in the mid-1850s from Mediterranean ports at a total cost of $30,000, the camels spent most of their time in government service around Southern California, hauling freight for a rancher near Grapevine Canyon and helping to survey the California-Nevada border.
Though their endurance was legendary, their hooves were not well adapted to the rocky soil of our Southwestern deserts. When camels were tried for express messenger service, several of the animals – built for long journeys but not speed – collapsed and died.
Eventually the Transcontinental Railroad was completed. And the remaining camels – no longer needed – were sold, shot by fearful ranchers, run over by freight trains, captured by Mexican circuses, or simply turned loose to fend for themselves. There have been numerous sightings of wild camels over the years, and perhaps a few of them are out there still.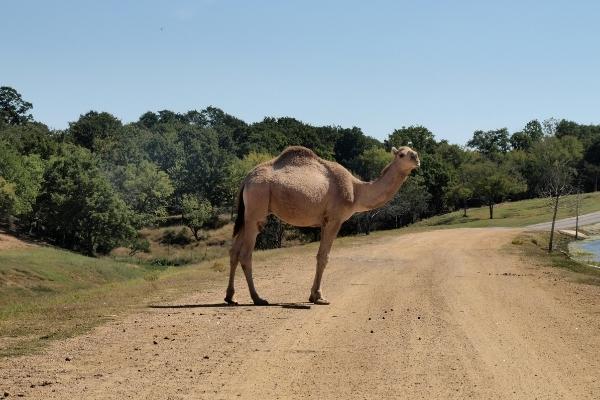 Camels in the Anza-Borrego Desert Today
Although it's unlikely that any wild camel herds persist in the desert, you can still see camels on your next visit to The Springs at Borrego RV Resort and Golf Course. Here's how you can explore the legacy of these exotic creatures…
Oasis Camel Dairy – Just about an hour's drive west of here via Montezuma Valley Road and CA 78, the Oasis Camel Dairy in Ramona has family-friendly tours, real live camel rides, makes camel milk skincare products, and features delicious chocolate made with camel milk! Visit them by appointment only, at 26757 Hwy 78 in Ramona. Call to schedule at visit – (760) 787-0983.
Camel Metal Sculptures in Galleta Meadows – the gigantic metal sculptures in the Anza-Borrego Desert by artist Ricardo Breceda are truly one of the most captivating sights you'll ever see. Spread out over a barren landscape of about 10 square miles, the spectacular sculptures of more than 130 dinosaurs, horses, prehistoric sloths, and other animals just seem to pop out of nowhere. Enjoy them all, including the majestic camels. Galleta Meadows is easy to find – just a few miles north on Borrego Springs Road.
Hike Camel's Head Wash, ride a real live camel, and view magnificent camel sculptures when you reserve your stay at The Springs at Borrego RV Resort and Golf Course. Book Now!
PS: Enjoy even more of The Springs at Borrego! The park is expanding – 37 NEW RV sites with views of the golf course and desert will be completed by Spring.
Reserve These New Sites Ahead of Time!